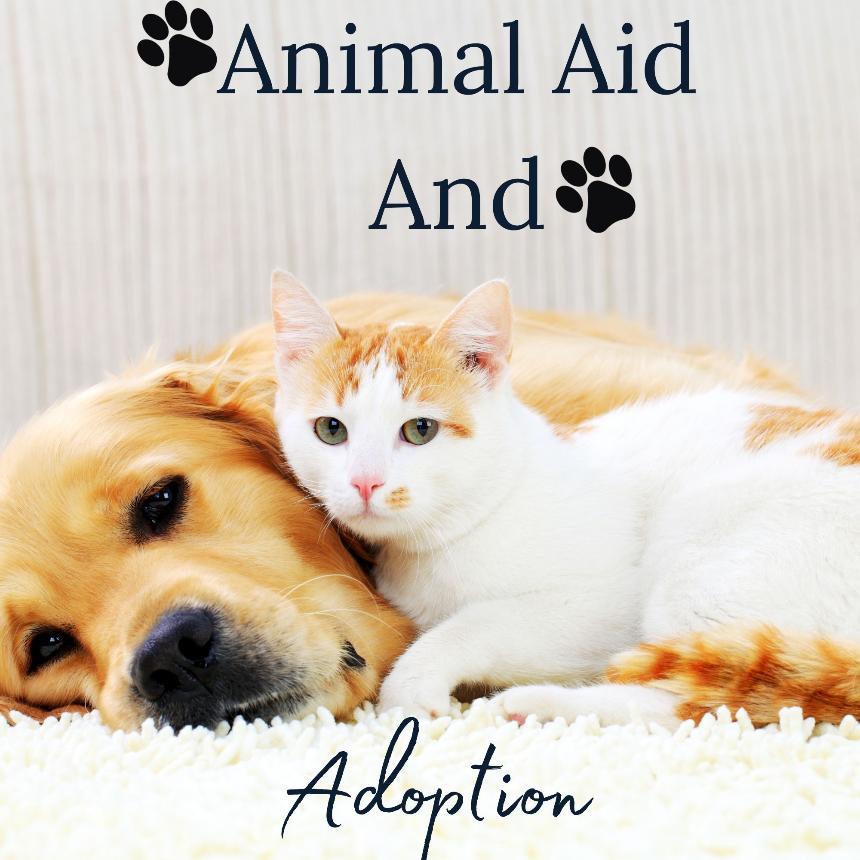 Charitable Registration No 11878 7183 RR0001
Our mailing address
10 Royal Orchard Blvd
P.O. Box 53081
Thornhill, Ontario
L3T 7R9
If you need help regarding an animal, please call Shirley at the new number 1-905-806-1627
For donations or any other inquiries , email: animalaidadopt@gmail.com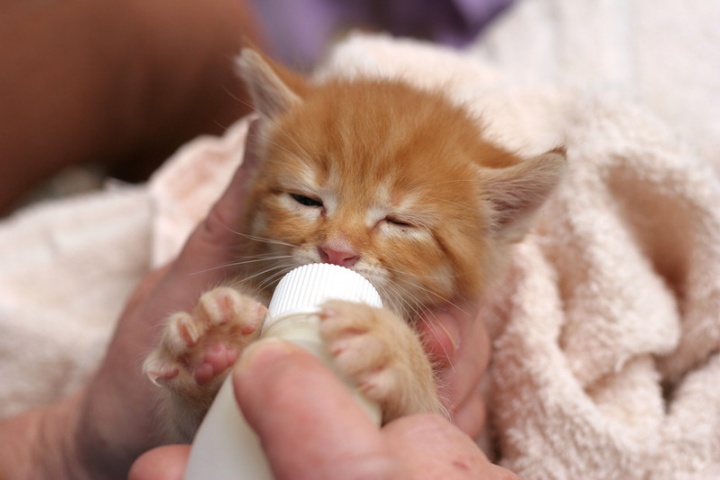 CLICK ON PICTURES TO ENLARGE
Our Vision: To help sick, abused and abandoned animals in need
Our Mission: To support the rescue, shelter and adoption of abandoned and homeless animals
Our Values:
We promote responsible pet ownership
We encourage and promote no-kill policies
We believe in and appreciate the bond between humans & animals
About Us
Animal Aid & Adoption is a not- for- profit charity to aid animals in distress
We are a 100% volunteer driven, dedicated team based out of the GTA, supporting foster homes and shelters throughout Ontario such as Thomas the Silver Tabby and Juleskittycats a Rescue and Adoption group
Rescued animals are given appropriate medical attention which is funded by Animal Aid & Adoption
With so many abandoned and abused animals, we are desperately in need of your help for medical and food costs. Please help us save a life.
Funding
We receive no government funding and rely solely on our fundraising efforts to support our initiatives.
Please take note - If you need help regarding an animal, please call Shirley at the new number - 1-905-806-1627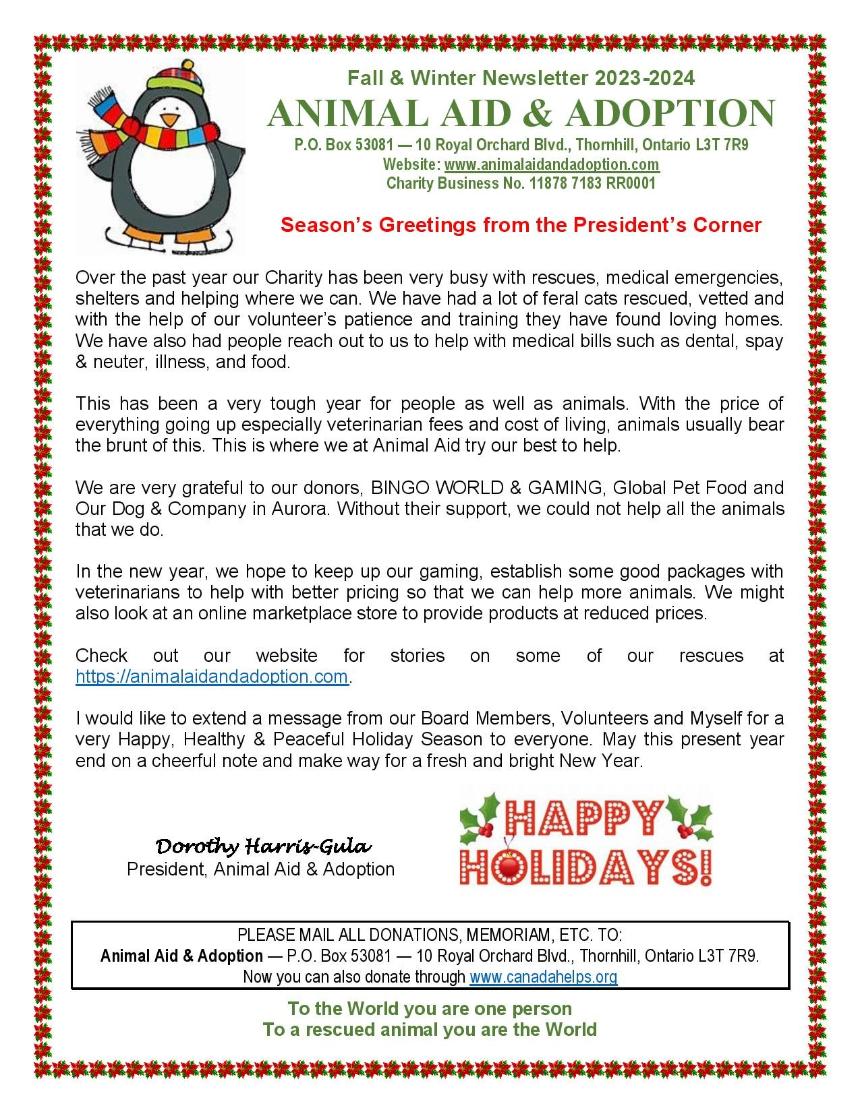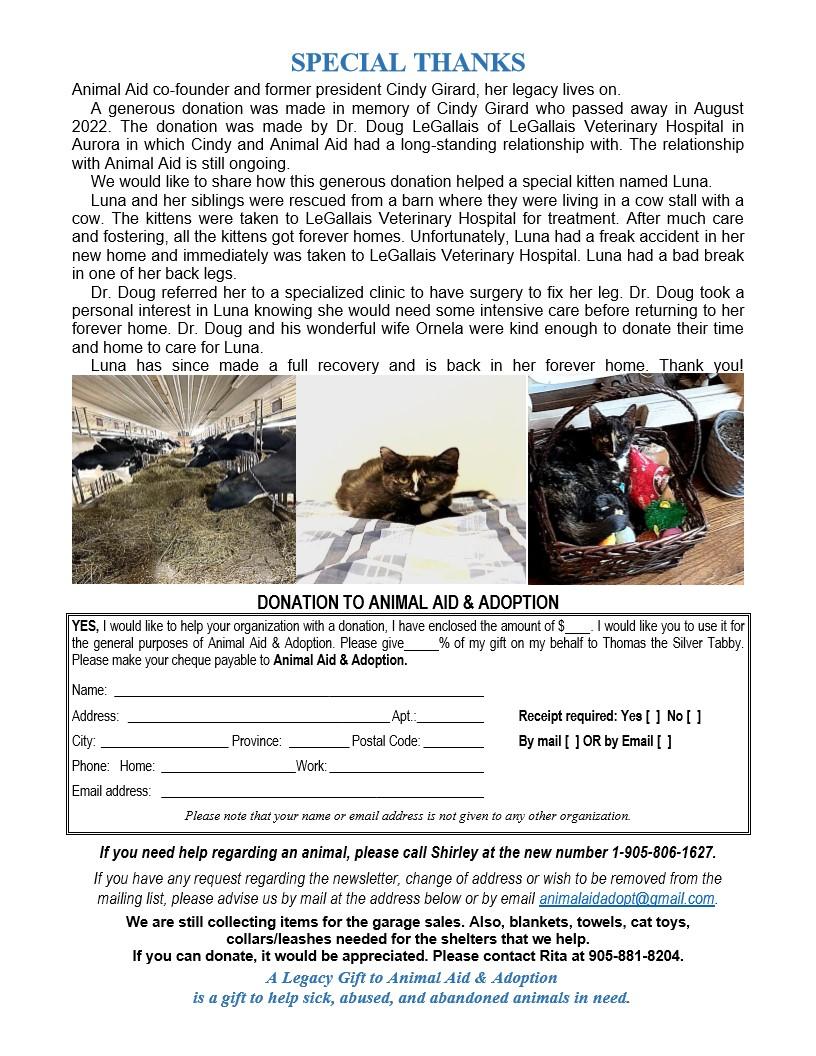 A BIG THANK YOU TO OUR SUPPORTERS AND DONATORS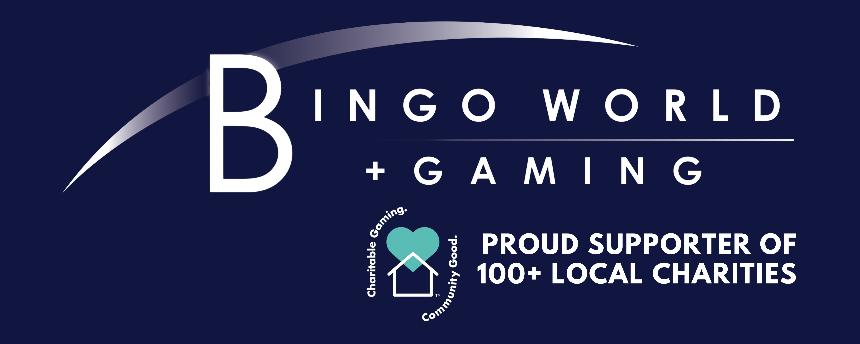 THANK YOU BINGO WORLD RICHMOND HILL & ONTARIO LOTTERY AND GAMING FOR YOUR SUPPORT SO WE CAN CONTINUE OUR WORK TO HELP ANIMALS THAT NEED US.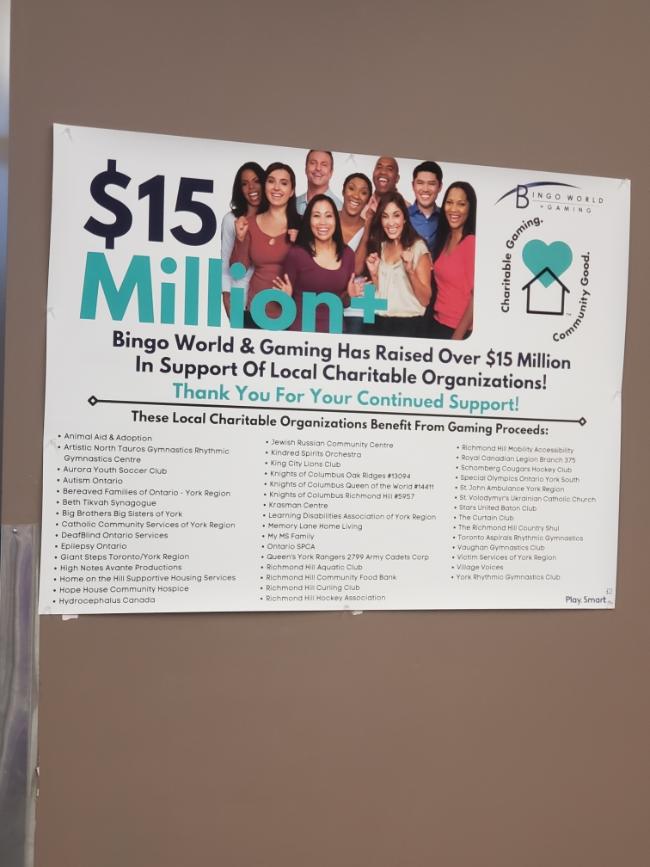 Thank you Charitable Gaming for allowing us to be part of such an amazing organization. Because of your support we are able to extend our help to more animals and people in need. We can now take on more emergencies and save more lives. THANK YOU.
Please check out below the CGCG Youtube Page for information and the impact that the Charitable Gaming Community Good has been doing. Animal Aid has no words to describe how much we are grateful to you.
BINGO WORLD RICHMOND HILL AND CHARITABLE GAMING COMMUNITY GOOD VIDEO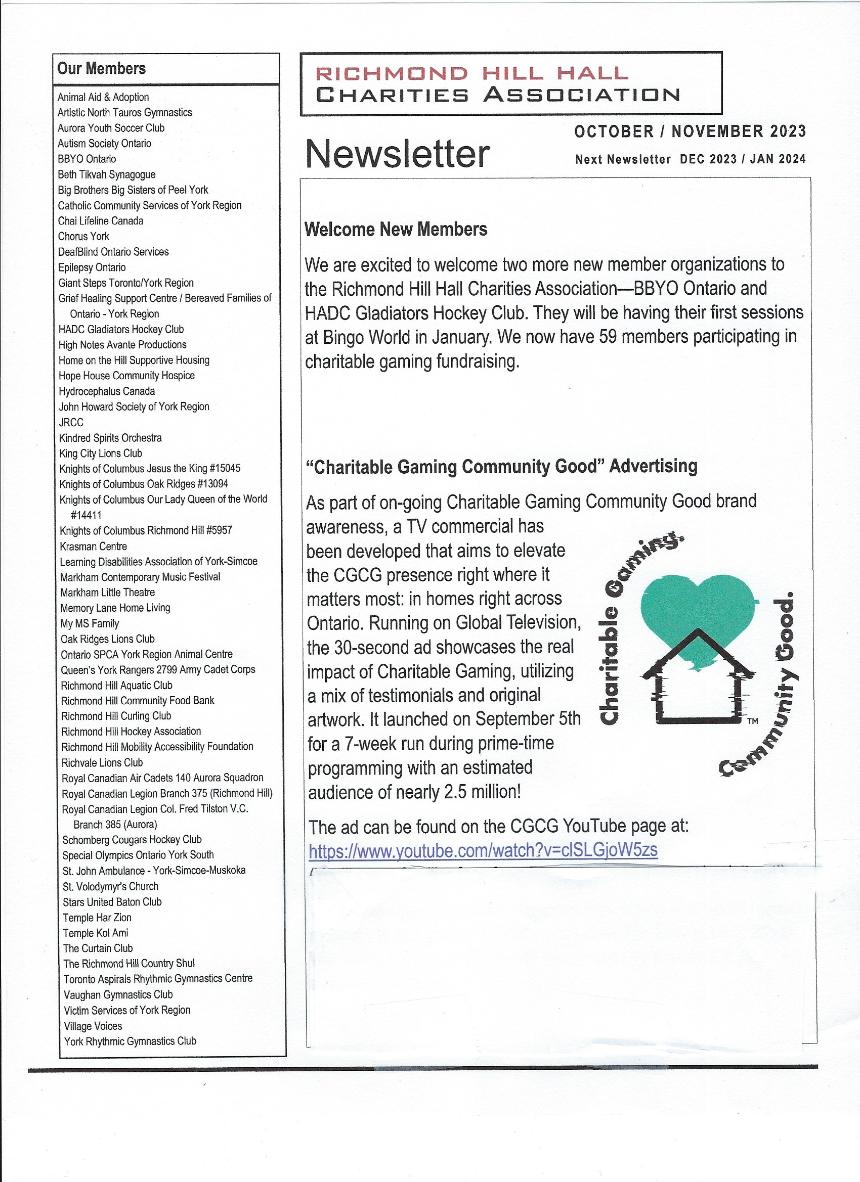 THANK YOU GLOBAL PET FOODS AT 70 DONCASTER AVENUE IN THORNHILL FOR ALL YOUR SUPPORT

.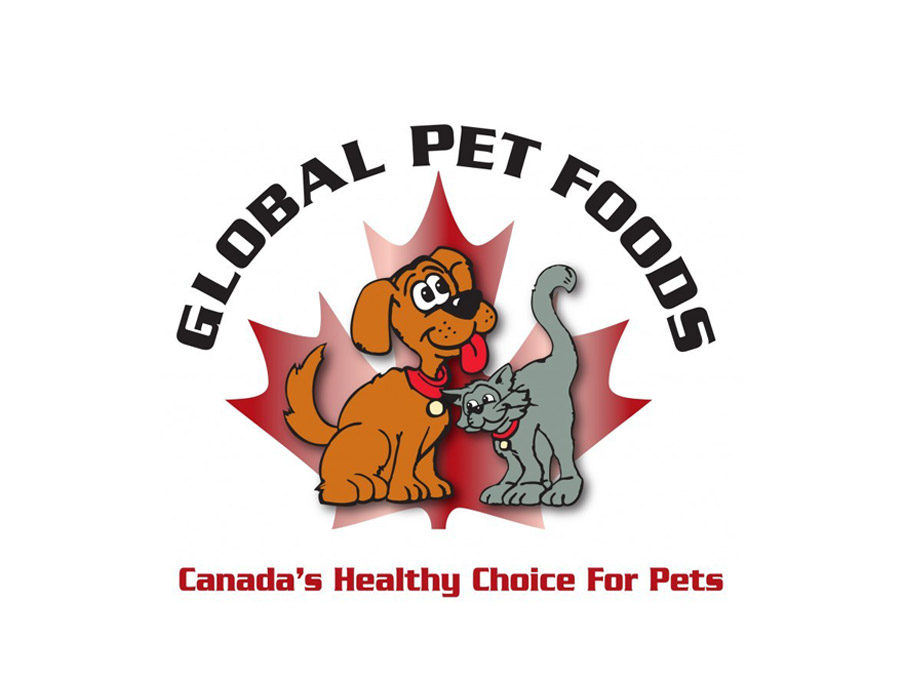 Animal Aid & Adoption has partnered with Donate A Car Canada, please click the link below that will take you to www.donateacar.ca or call 1-877-250-4904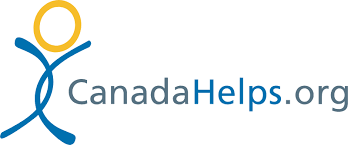 To donate with Canada Helps please visit click the link below
BOB
UP FOR ADOPTION
Meet Bob. He was recently rescued from the streets and has been through a lot. He is a special cat that needs a special person who can shower him with affection. He is about 3 years old and all he wants is someone to pat and love him. He understands a lot of words and will respond. He would be perfect for someone who is home and lives in a condo. He needs a home that is safe where he cannot get out. If you need a TV buddy, then Bob is for you. He will sit next to you for hours.
For more information on Bob and his history, please contact Dorothy at 705-422-1339.
We are welcoming Max into our Animal Aid And Adoption Family. As you are aware of the crises that many people are facing with the cost of living going up, people are having to make hard choices in order the pay the rent and put food on the table. The added expense of a pet with health issues almost makes it impossible. Luckily a friend of Max's owner knew about us and contacted us on Max's behalf. Max is on a special pill and eyedrops for life and the cost is extremely high and without this he would not survive. The owner would not be able to pay rent, buy food and Max would lose his home. This is a too familiar story happening everywhere.
Animal Aid and Adoption has stepped in to help. We will be looking after all his medications and vet bills. Max is now part of our family.
A big thank you to BINGO WORLD+ GAMING for making this possible. With their continuing support, we are able to make a difference in the lives of many animals.
Sparrow was rescued from a backyard colony with 5 of his siblings when they were four months old. All of his siblings left to a rescue to be fostered and to be adopted months ago. At the time of getting neutered, the vet noted a prominent heart murmur, potentially a grade 5. This can result in a shorter lifespan, 6-18 months and it is harder to adopt him out to a home with medical costs and a shorter life span. He will be going for an ultrasound in December so that we can get more information on the murmur to better understand the situation. If the murmur is present and high grade, Sparrow would need to be in a forever foster and he will always be under the care of Animal Aid. Thanks to Animal Aid and Bingo World who support them, he will receive the best care. So many animals out there are suffering and need medical care and its with the help of BINGO WORLD & GAMING that allows us to rescue and help more animals in need. THANK YOU BINGO WORLD & GAMING for all your support,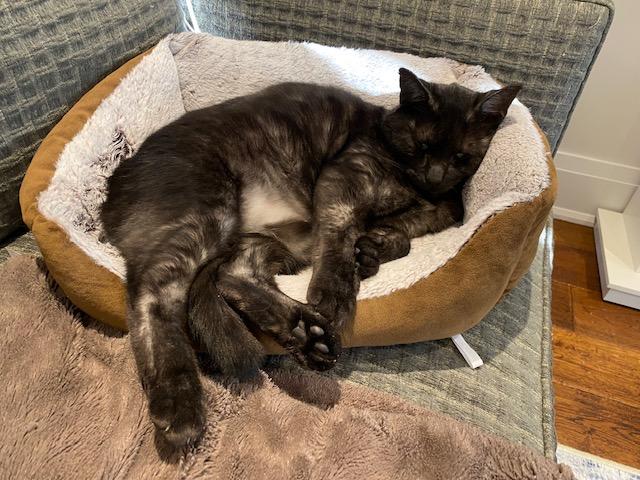 Damian showed up in a residential area, but neighbors were not feeding him as they thought he had mange or an infection on his coat of fur. It was noted by the homeowners that he had patches of fur missing. They would shoo him away and hope by not feeding him, he would leave the area. Animal Aid was called and asked if they could take in a cat with a skin infection/mange and they said yes right away, as they knew he needed medical attention. When Damian was rescued, he went straight to the Vet. He was given a thorough examination, neutered, vaccinated, microchipped and treated for fleas/worms. Turns out, he has a smoke coat, so when people looked at him, it seemed like he was patchy with fur missing, but his white undercoat was just showing through. The vet estimated him to be a year old.
Damian was very scared when rescued, but his foster parent let him come out on his own. The other cats in foster, helped teach him the ropes. He's been in foster for over a year, but we were committed to him. Now he sleeps on beds with his foster brothers, does backflips when playing with the feather wand toy and loves affection.
Thank you BINGO WORLD for your continued support to let us help cats like Damian survive in a cruel world. Your support has helped with his vetting and care (litter, food etc.) expenses.
Too many animals fall through the cracks. These are hard times for animals and people alike. Please take the time and energy to care and not just pass by.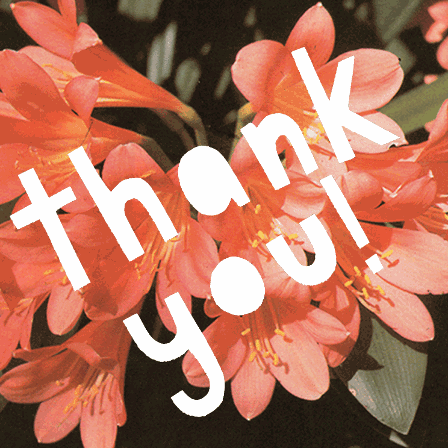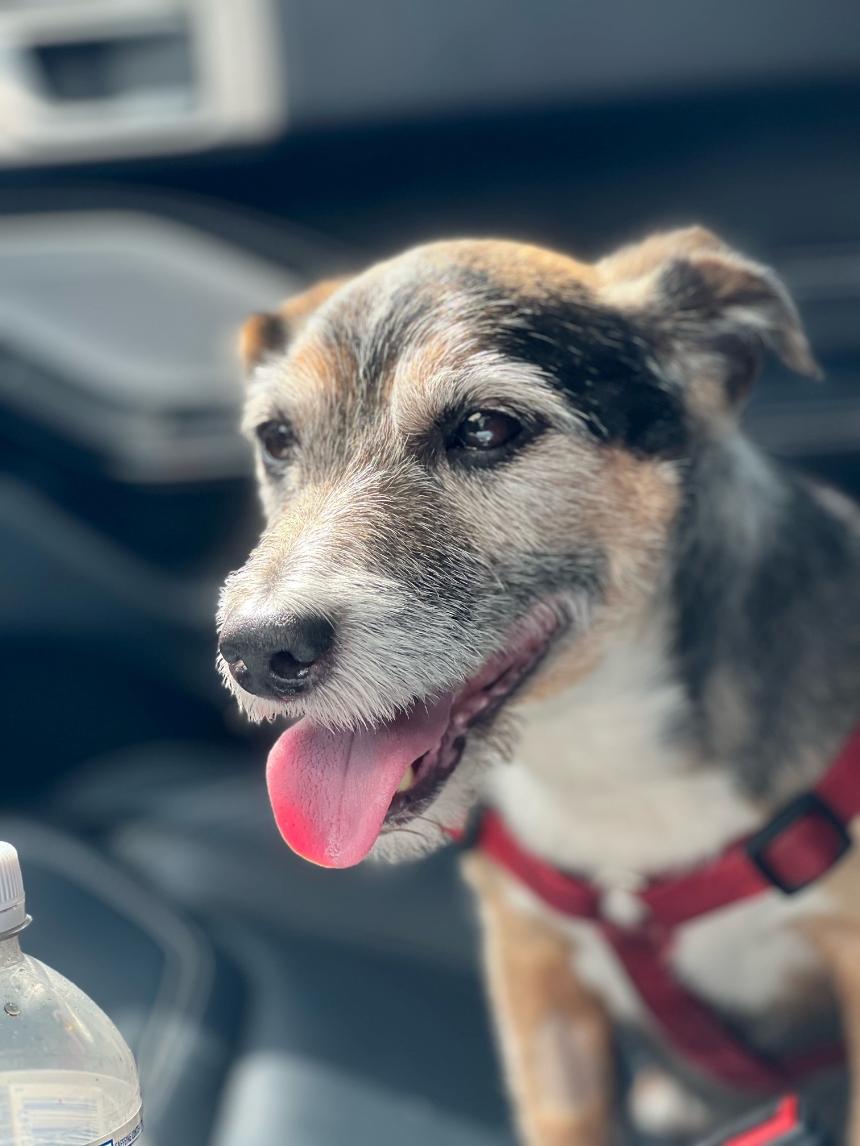 Here is Ben - a beautiful Senior dog. Sadly Ben's owner passed away and Ben was left alone. He was taken in by the owners brother who had a soft spot for Ben. Ben for whatever reason was neglected health wise and had not seen a vet in over 5 years. He was in a lot of pain from his badly deteriorating teeth and swollen gums.
Ben's new owner contacted Animal Aid as he was not able to afford the Vet bills. Animal Aid sent Ben straight to the vet where he was given all his shots, had all his blood work done and had a full dental inspection and was able to get all the dental work done quickly. Several teeth had to be removed but Ben is in great shape today and in a loving home.
Ben is one of the lucky ones because he had someone who wanted him. A lot of animals are not so fortunate. The cost of living is very expensive and many animals are given up or abandoned.
Animal Aid is one of the Charities that are fortunate to be able to help in situations like this because of the support we receive from BINGO WORLD.
A VERY BIG THANK YOU TO BINGO WORLD FOR ALL THEIR SUPPORT
THANK YOU BINGO WORLD + GAMING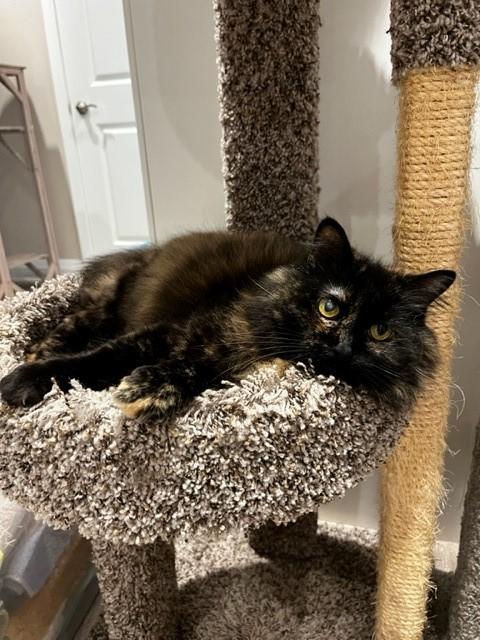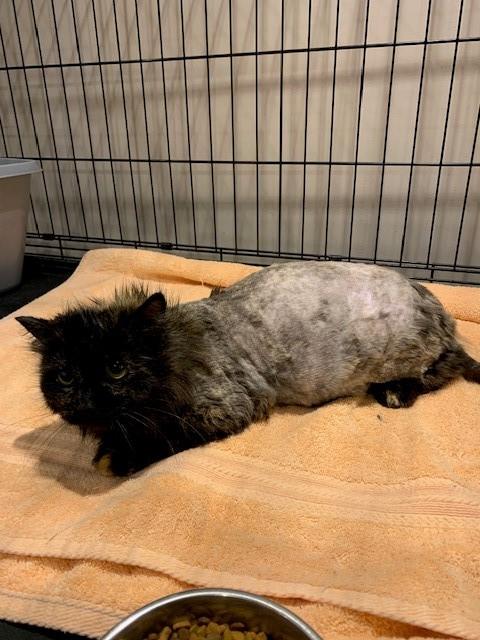 Truffles was rescued from a warehouse with her kittens. The rescuer reached out to a "rescue that took moms and kittens. It was not a real rescue. It was a person on facebook who called herself a rescue and sells the kittens not fixed and makes it seem like she has an adoption process
Places that take in any cats without asking questions should raise a red flag. Many rescues do not have assessment homes and she went to a foster that didn't know her temperament. Truffles had been sprayed by a skunk prior to being rescued and was nursing at the time. The rescuer did not treat her whatsoever. When she went to the foster home, she was so stressed that she didn't nurse. She must have been so scared and uncomfortable from her burning eyes after being sprayed. She also didn't get along apparently with the resident cat. Why is a nursing cat not given her own space.
The rescuer (Not the Rescue), asked if Animal Aid could help her. Hearing about the situation, Animal aid took her in to a foster home that met her needs. To these types of rescues, and because she was not a kitten, her life had no meaning and was worthless to them because she would not bring them in any money.
The poor little thing smelled so bad and was so matted. She went straight to the vet and was shaved down, given a bath and spayed. She suffered permanent eye damage from being sprayed as it went weeks with being untreated.
Truffles is adorable. Her fur has grown in beautifully and she is an old soul..so calm and gets along great with other cats.
Through time she has let down her guard and likes to play and enjoys being petted.
Animal Aid knew when taking in Truffles she was going to be a long stay foster. However long she stays waiting for a forever home, Animal Aid will support and care for her, pay any vet bills and look after all her food and litter needs.
This is a too common story. Thank goodness that there are still some good rescues like Animal Aid and Adoption around,that put the animals first.
One last thing need to say is - Thank you a million times BINGO WORLD. There is no way we could help all the animals we are helping now without you. You really are a lifesaver for all these animals that come through our doors. Thank you Thank you.
This is Bailey a sweet gentle cat who is approximately 5 years old. Animal Aid was asked to help take him in when his feeder passed away and no other neighbors wouldagree to take over feeding/caring for him. The neighbors said he would always be at their back door looking inside. He is a gentle soul and gets along great with other cats (male and female). He has come so far and now he loves to play and sleep on the couch.
When Bailey was just a teenager he was trapped, neutered and brutally TNR'd (ear tipped) by a terrible vet with no scruples or heart and returned to the streets to fend for himself. His ear tip was cut way down too much causing him so much pain. Thankfully he is ok and in a great foster home that could become permanent.
This is a story told too often. Sadly there is a huge shortage of socialization foster homes or shelters available to save these poor animals from the elements and the evil people out there.
Animal aid was contacted to take in a mom and her kitten or else they would be dumped outside. It's odd for a mom to have only one kitten, because usually the litter size is larger. Turns out that the kittens were given away or sold on Kijiji and since the Mom and the kitten were black they were more difficult to sell. Black cats are always harder to sell.
We named mom Ruby. Her kitten left to a rescue where she was adopted out with another kitten she had been paired with in her foster home.
When mom arrived in our care, she was then fully vetted - spayed, vaccinated, microchipped and treated for fleas.


Ruby is a little lady with a big personality and is waiting for her forever home.
Unfortunately with people struggling to make ends meet they found a way of using animals to survive. I can only hope that this world becomes a better place for people and animals.
Thank you to our supporters, especially BINGO WORLD, which allows us to keep rescuing animals, pay medical bills and set them up for a better life.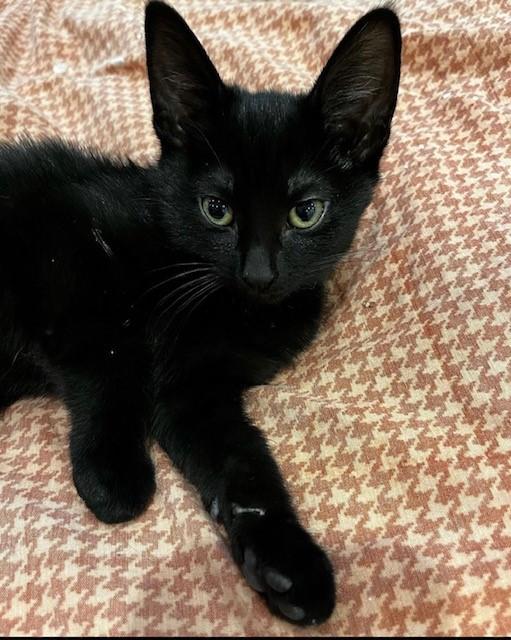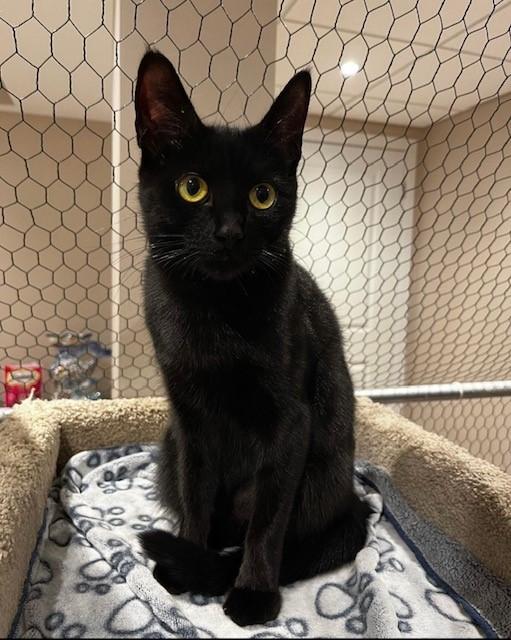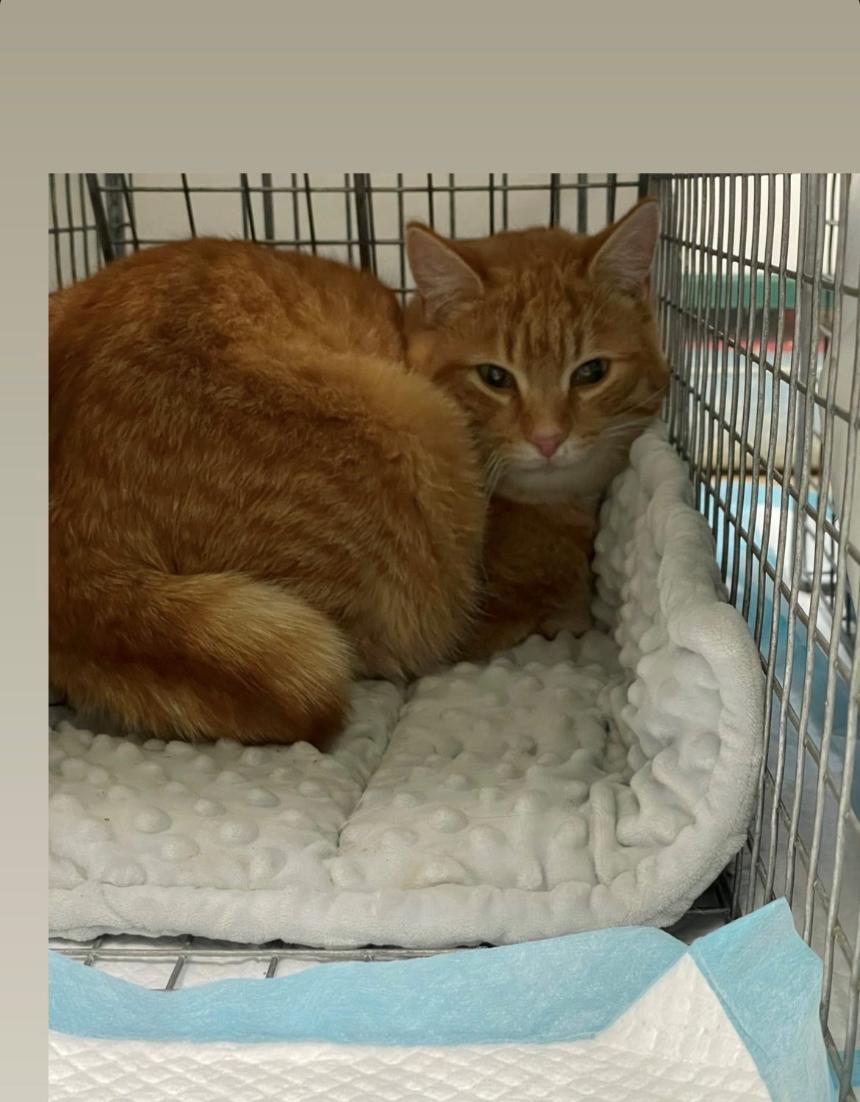 Jimmy Choo was rescued from a chicken farm outside of Toronto and it goes without saying how brutal some of these places are. When Jimmy was rescued and went to a foster, he was terrified. Think about it. He needed to enter a trap to be secured in order to brought inside. He was in a new environment that is very unfamiliar to him with different smells and people who he did not recognize. He was with three teen girls who also came from the farm.
With a soft touch, time and patience, Jimmy flourished into the sweetest boy who loves pets and other cats. Animal Aid provided the necessary medical and he has left to a rescue and will soon be up for adoption.
It is unfortunate that these place exist or allow such cruelty to animals to happen. Thats how it is in the world today. Animal Aid does what it does to help because of the help we get from BINGO WORLD. Because of Bingo World we are able to help future animals in distress. THANK YOU.
We would also like to thank GLOBAL PET FOODS, THORNHILL for their support and all of our other supporters. Just know, that with your support we can save more lives.
CHICKEN FARM DEPLORABLE CONDITIONS
Thank you so much Animal Aid for helping take in 4 cats from a chicken farm. 3 female teenagers (approximately 5 months old) and 1 adult male (under 1 year). Without intervention this Spring the girls would of had a litter of their own, it's very sad kittens having kittens. The farm owner wanted a few of the cats returned so they were altered and returned. Spaying and neutering saves lives as this will end the vicious cycle. This is something that happens all the time, but most people are unaware of these types of sad situations. It is because of the work of some of these volunteers that go out and actually rescue these animals from a horrific existence.
All of the kittens have been vetted and given a clean bill of health and are in foster waiting for their forever home.
A big thank you to BINGO WORLD + GAMING for their support for allowing us to do what we do to help these animals. Also a big thank you to GLOBAL PET FOODS for their help and support as well.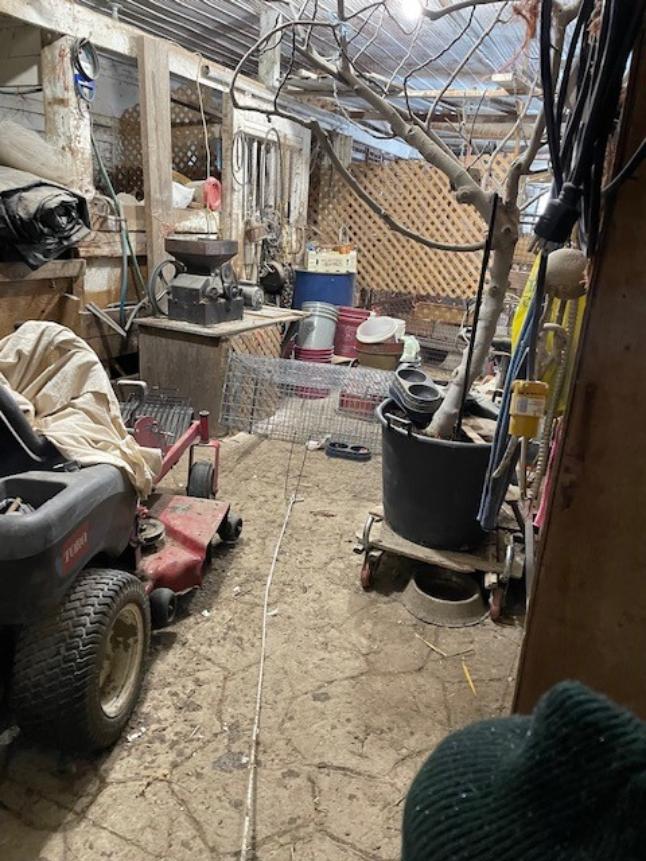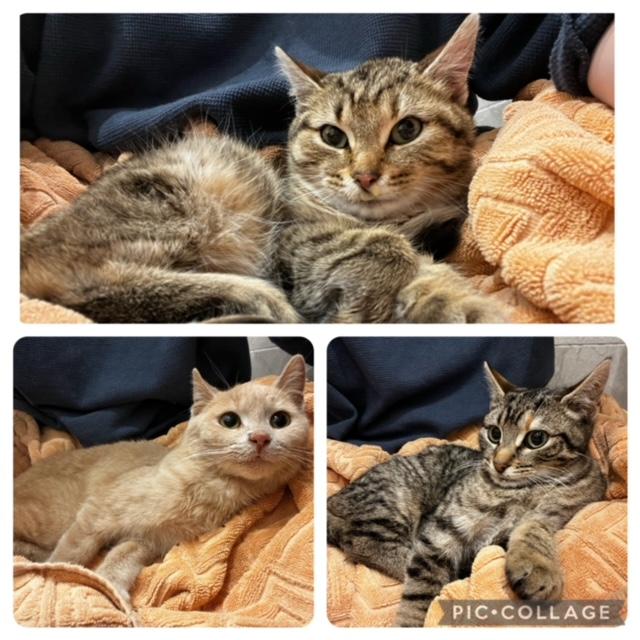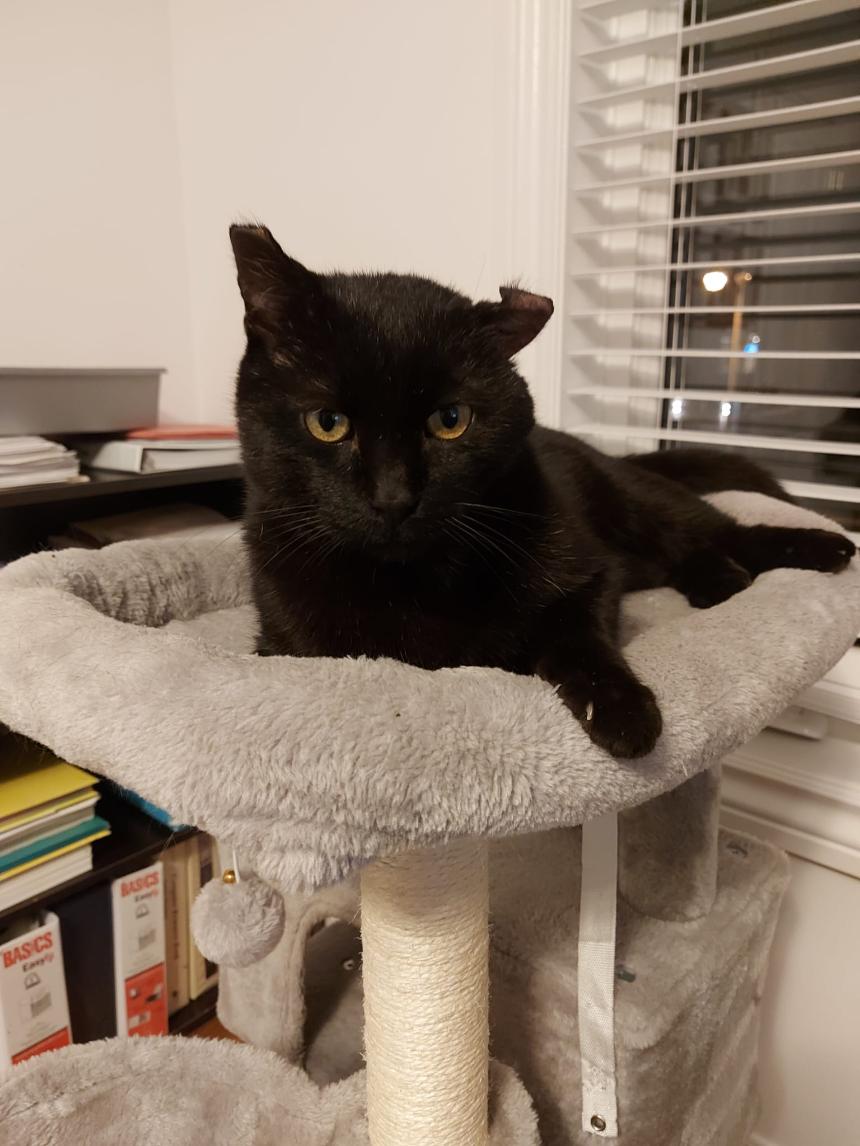 click on pictures to enlarge
This is Chewy. This poor little cat has suffered much more than any animal should endure. Thanks to a lady named Ann, Chewy was trapped along with his buddy Dewy from a most deplorable Cat Colony. Not only did they have to survive the harsh outdoor weather, predators, but most of all horrible people that destroyed their food and shelters numerous times because they wanted them gone. But there are still some wonderful people in this world that kept fixing up the shelters and bringing food. Chewy you can see the picture of his ear above, lived in total pain. He had a serious ear infection and skin that kept ripping. But he was and is a fighter. Ann waited nights in the cold weather until she finally trapped both of them. Because of the way things are now, a lot of Charities are struggling. Not only are Charities filled to capacity but the cost of medical is incredible high and every animal that comes in from the cold needs help. Ann finally found us - ANIMAL AID AND ADOPTION - and in our hearts we knew we had to give this little guy a fighting chance to live. It was only by the Grace of God and Chewys determination to live that he endured all the painful tests that finally led to surgery. He went to a specialized hospital where a surgeon with golden hands performed this dangerous ear oblation operation. Without this surgery, and even with his will to live, he would have died. Today, look at this beautiful, happy little fellow. He has bounced right back and is enjoying a life that he never had or expected to have. Ann fell in love with him and has given him and his buddy a new lease on life and they are both finally home.
This is only one story. Covid did a lot of harm, not just to people but to animals. So many animals were adopted during Covid, and after it was basically over some people had no more use for these animals and they either dropped them at shelters or just dumped them and left them out there to survive on their own. This doesn't say much for the Society we have become. I am thankful that there are great Charities that are out there doing what they can and Organizations like BINGO WORLD who help them make a difference in the lives of these animals.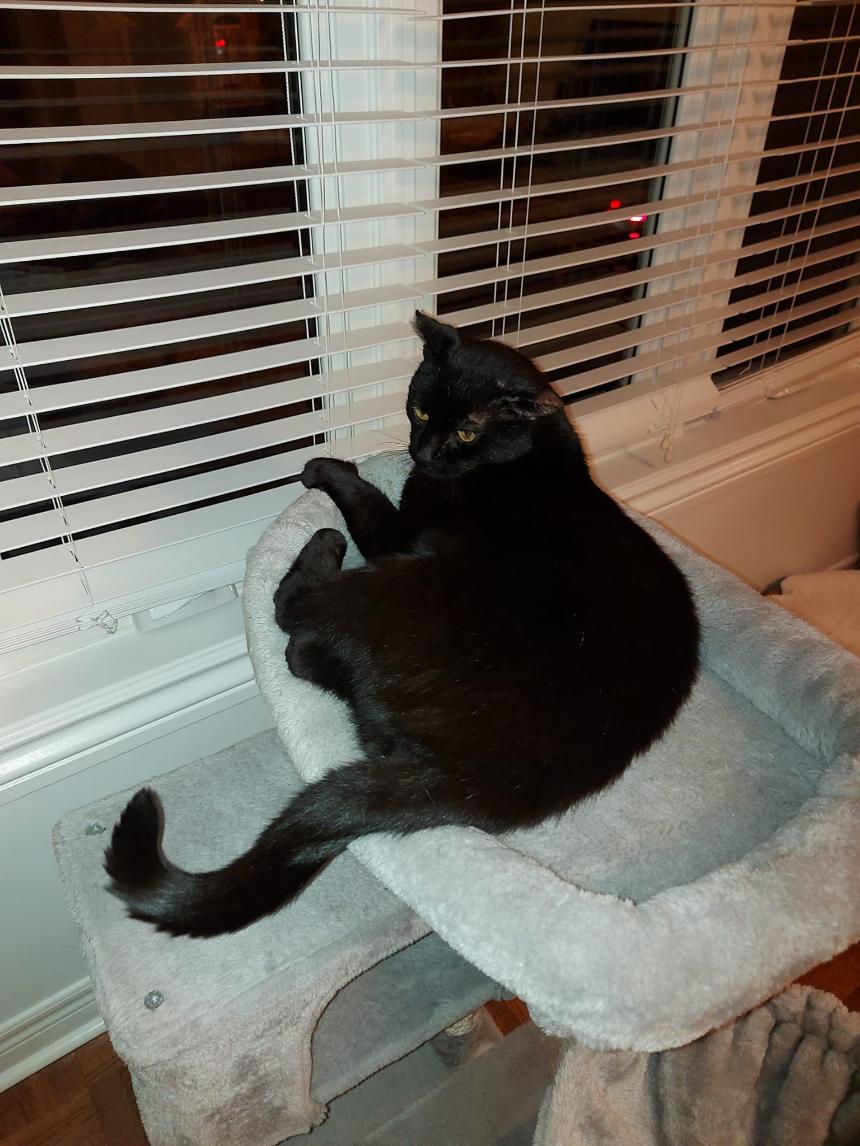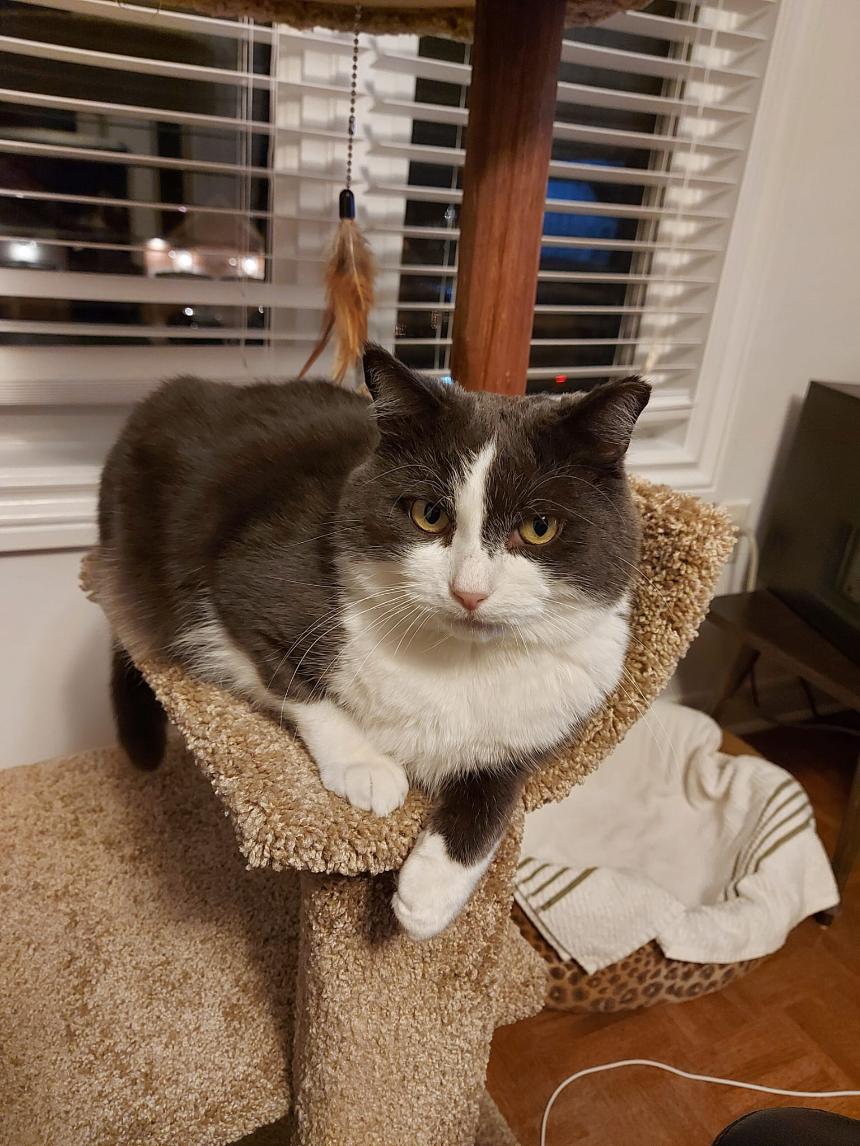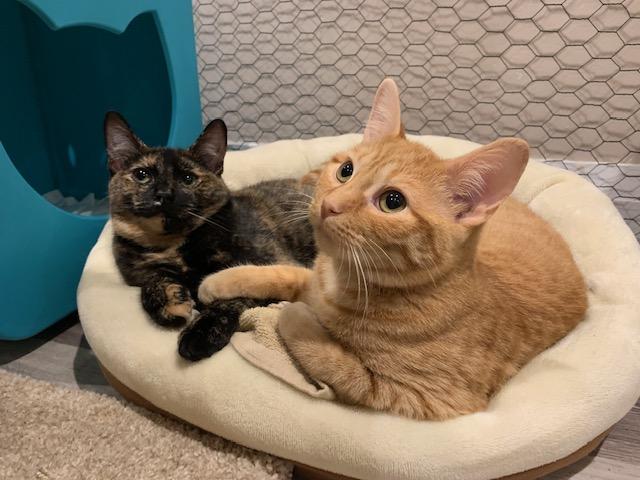 Please click on thumbnail pictures to enlarge
Finally a feel good story. Animal Aid was asked to help out a pair of adolescent kittens from a backyard colony. Monica & Rachel were 6 months of age when rescued.
Did you know that cats can go into heat at 5 months and get pregnant at 6 months of age. This Fall season the girls could of had a litter themselves. Its very sad kittens having kittens.
They were both immediately taken to the vet to get treated for fleas, vaccinated, spayed and chipped. It is not common to see orange female cats, but Monica is. The girls are now in foster care and can continue to be kittens. They won't experience the harsh outdoor life ever again.
This is unfortunately a story that is on going and unless we can spay and neuter as many as possible to stop the kitten population, all these animals will suffer needlessly. Thank you to our wonderful supporters like Bingo World and Global Pet Foods, we can make a small contribution towards this problem.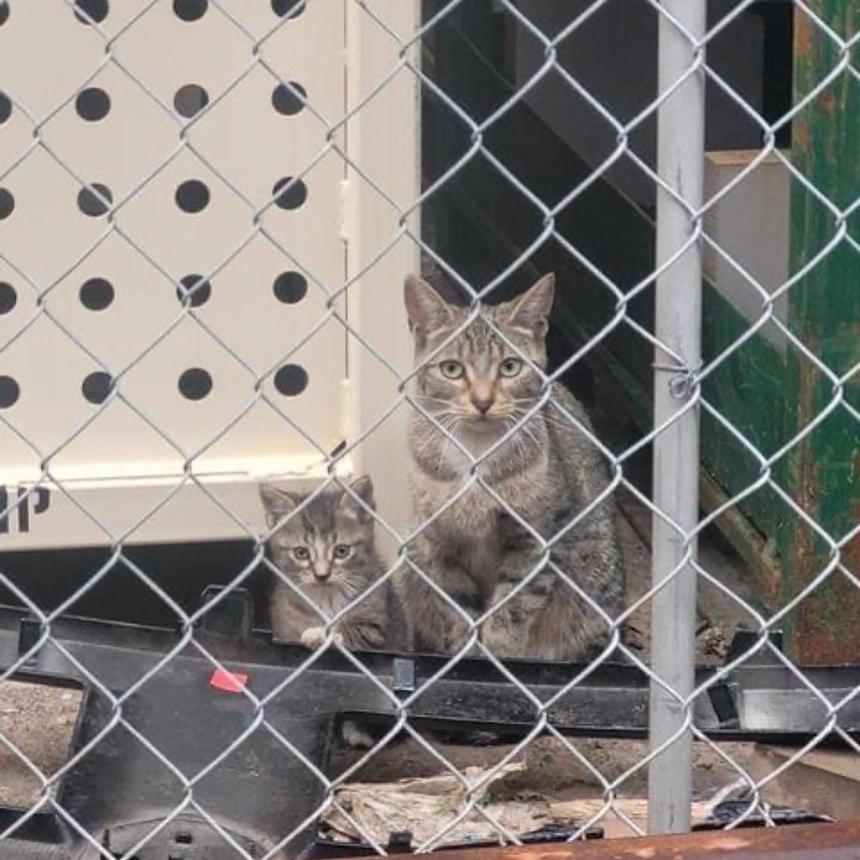 Cindy and her daughter Gracie were rescued from a metal welding factory. The factory reported there was a kitten with an amputated paw. The rescuer got the Mom and the kitten and we gladly accepted the family as Mom is never left behind. Cindy and Gracie went straight to the vet the same day they were rescued to get fully vetted. Cindy was treated for fleas, parasites, vaccinated, SNAP tested, spayed and chipped. Gracie was also examined by the vet, as we did not know if she was in pain. He said it was a birth deformity, otherwise she is a healthy kitten, which is good news. They both had upper respiratory infections and they were put on medications.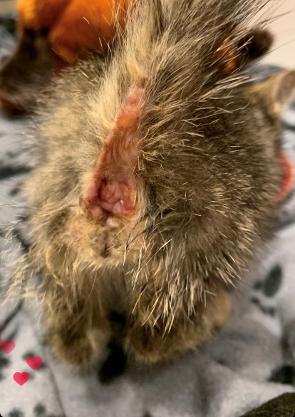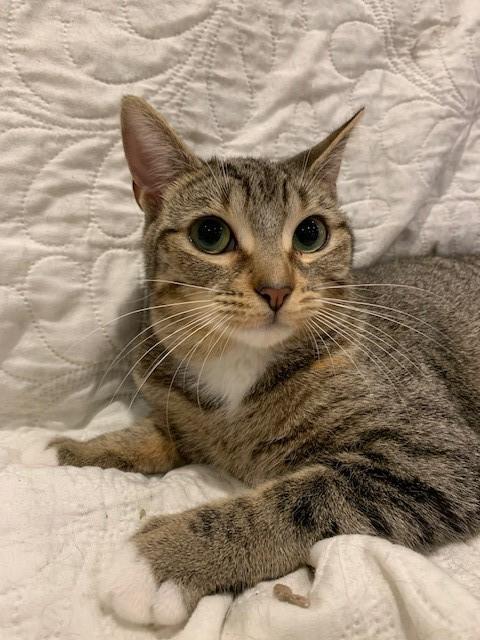 A day after Cindy and Gracie were rescued, Willa was rescued from a Walmart parking lot. She was under a car and a good samaritan got her to come out with a can of tuna. She was taken to the vet immediately, who said poor Willa had very terrible ear mites and urine scalding on her anus area which is very painful and uncomfortable and an eye infection. She was put on medication immediately.
Willa, Cindy and Gracie all had an upper respiratory infections and they received all the proper medication. Gracie and Willa are the best of friends. They love each other and are very bonded. They were named Willa and Gracie like Will and Grace. The girls have left to a foster and will be adopted together as a bonded pair.
As for Cindy, at first she was shy and scared, but with TLC she flourished and now loves cuddles, kisses and watching tv with her foster mom.
Thank you Bingo world for helping Charities like Animal Aid to help cats like Cindy Willa and Gracie. Animal Aid believes in quality care and a better life for animals.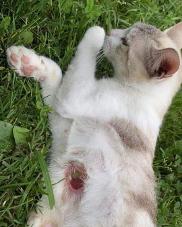 A rescuer got a call that there was an injured cat that needed help. Many rescues said they could not assist as they do not help street cats. Animal Aid stepped in to help with Veterinary costs.
Summer had a large hole in her stomach. Summer had a kitten but the feeder would not release her.
The vet said Summer's injury most likely was from an animal bite. Animals are so resilient; she nursed her kitten with that injury.
Thanks to Bayview Woods Animal Hospital who was able take her in right away. She got her wound cleaned and stitched up. Also while she was under anesthesia she was spayed, vaccinated and treated for fleas.
Summer is only 1-year-old, a kitten herself. She went on antibiotics and pain meds. She is a happy little girl that loves human companionship, only better days ahead for her.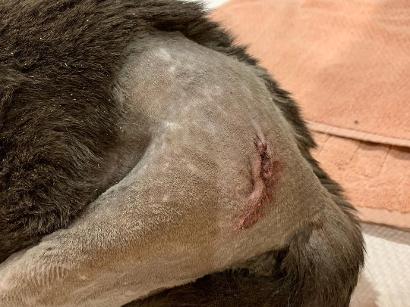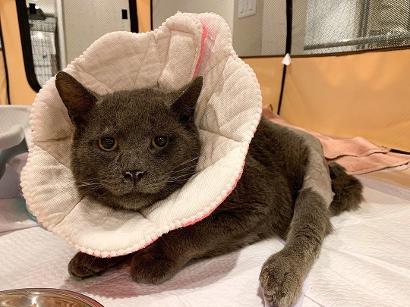 A homeowner reached out to the rescue group that Animal Aid has been supporting, about a cat that she had been feeding outside and that appeared to have an injured leg. She had been feeding him for years and she said that he had fathered many kittens. Two regular traps were set up near his feeding and shelter location, but it did not work. Then, two alternative traps were set up with remote controls. These were being monitored through apps. It took a week and a huge team effort to trap him. Thanks to this caring homeowner, who saw him eating in the trap, pushed the remote to keep him in the trap. When he was taken inside, it was discovered that he was actually very friendly and liked other pets.
With the assistance of Animal Aid, on Monday he was taken to the Vet. They said he was approximately 6 years old, had fleas but his overall body condition was good. On March 21 an Xray of his leg was taken. It was dislocated and he needed surgery. I can not imagine the pain he must have endured. On the 24th he was neutured and had his leg corrected by an Orthopedic surgeon.
He is currently doing very well and is happily recovering in his foster care waiting for a forever home.
It does take a village to help these poor abandoned animals who fight the elements and surroundings to survive. The lucky ones get rescued.
A big shoutout to a good hearted lady who fed him and helped rescue him, to our rescue team who are on call and out there anytime day or night, to Animal Aid for their support, and last but not least to Bingo World for their big support that enable us to do what we do rescuing animals.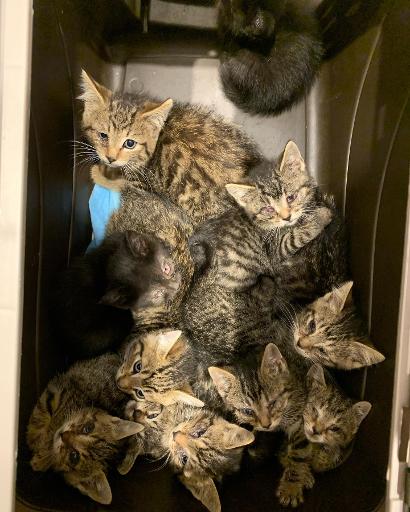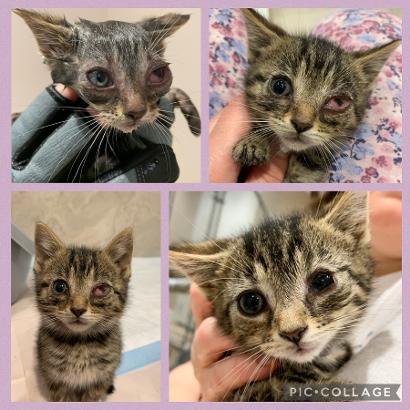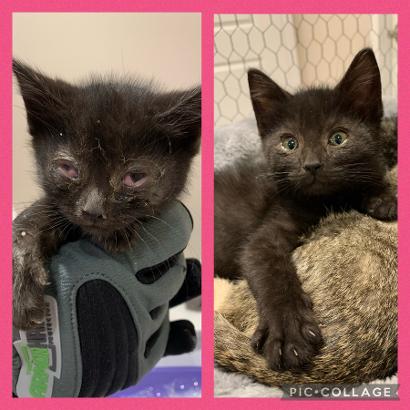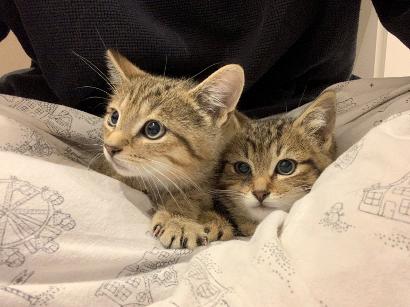 nimal aid was called in to help out a farm with many sick kittens. A team of volunteer trappers supported by Animal Aid, were able to use their traps & trail cameras to ensure that they trapped all the cats at the site.
There were 15 kittens approximately 6-7 weeks old rescued from the farm. With Animal Aid's support all of the kittens and cats received immediate veterinary attention the same day that they were rescued. Most of the kittens had bad eye infections & upper respiratory infections. As you can imagine while in foster care, these kittens went through medication very quickly. Sadly two of the kittens crossed the Rainbow Bridge.
We got the farm to agree to letting us fix the adult cats and end the cycle, as long as they were returned to the farm to keep the rodents away. There were 7 females and 1 male. The females were spayed and ear tipped. The farm asked for the male not to be returned. He was vetted (dewormed, vaccinated and neutured) through Animal Aids Vet. He is currently being socialized to find his forever home.
This is truly sad, because this is happening all over. If there is a litter in the winter they usually freeze to death. There are no laws to prevent this type of suffering of animals. It is agencies like Animal Aid that try to make a small difference in the lives of so many animals suffering this type of abuse. This is only one farmer out of so many that finally helped. So I thank him for that.
Finally, the kittens are on the road to recovery and will be going into foster care waiting to go to their forever homes.
THESE ARE THE LUCKY ONES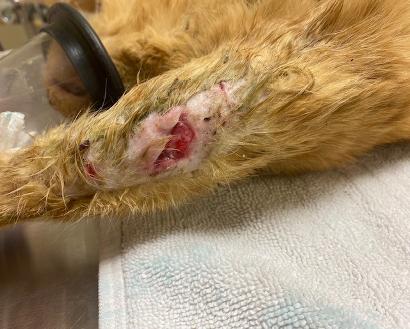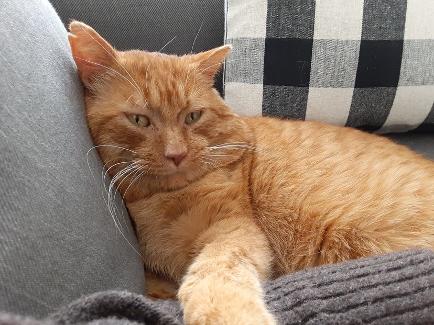 This Fella is approximately 10 years old. He was rescued from a cat colony. From the moment he was brought inside, he knew he was rescued and safe. Ernie's had a hard life. The vet said he was infested with fleas and had lots of fight wounds. Ernie has no teeth, you see he has never had proper nutrition and has been in many fights over the years. He has had to chew on hard objects just to stay alive. He will now have a proper diet and he is having his mouth taken care of. His wound has already started healing.
Ernie has a lot of TLC (Tender Loving Care) instore for him now. He will never need to endure the outdoor life again.
The pictures above is of Ernie at the Vets and in the spa getting all cleaned up to go to his foster home until he can find his forever home. The top larger picture is Ernie in his foster home waiting to be adopted to his forever home.
ANIMAL AID & ADOPTION for the first time, is proud to share the wonderful work that one of the Shelters that we are supporting is doing. This shelter does a lot of great things for the animals that have been abused and abandoned. We are there to support their needs, whether it be for Veterinary Bills to help save an animal, or for food or anything that they may require. Please check out the animals below that are up for adoption and help open up more space for animals that are waiting and in need. We wish to thank BINGO WORLD and the OLG for making it possible to support this wonderful Shelter.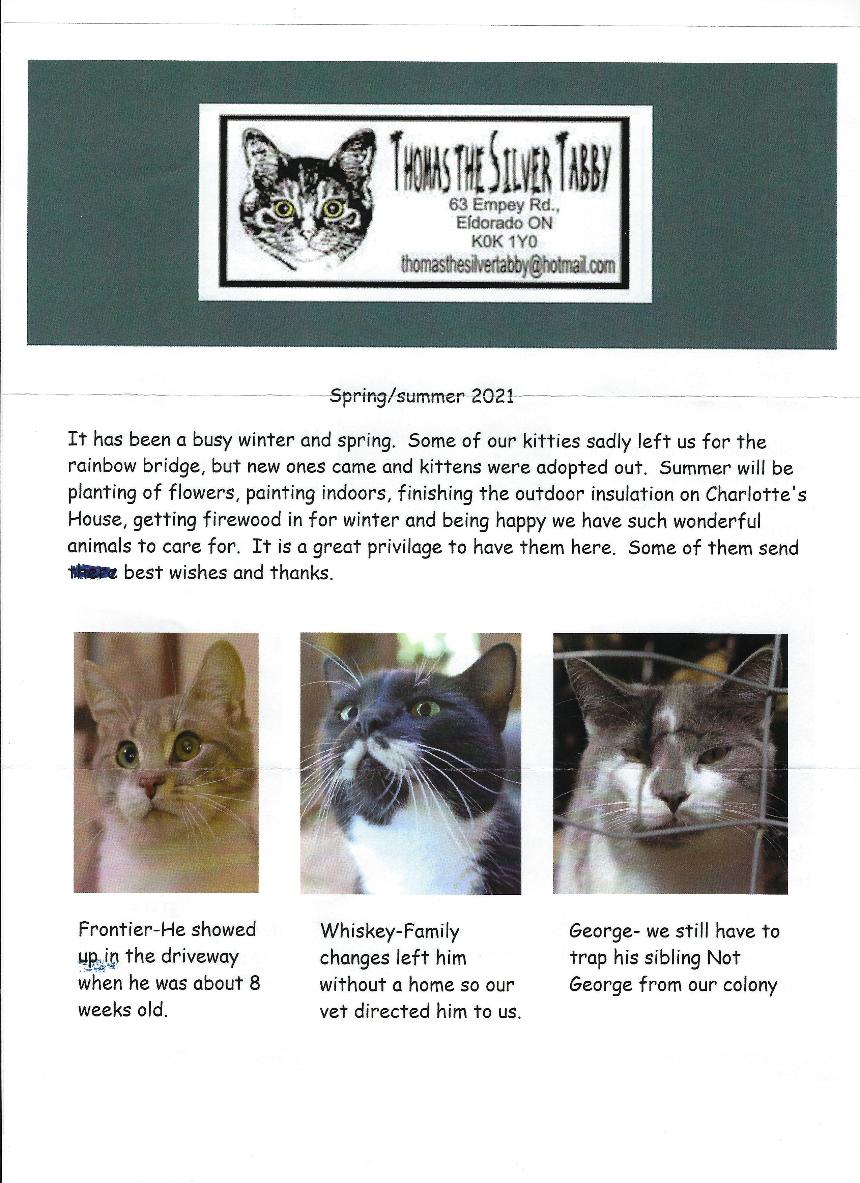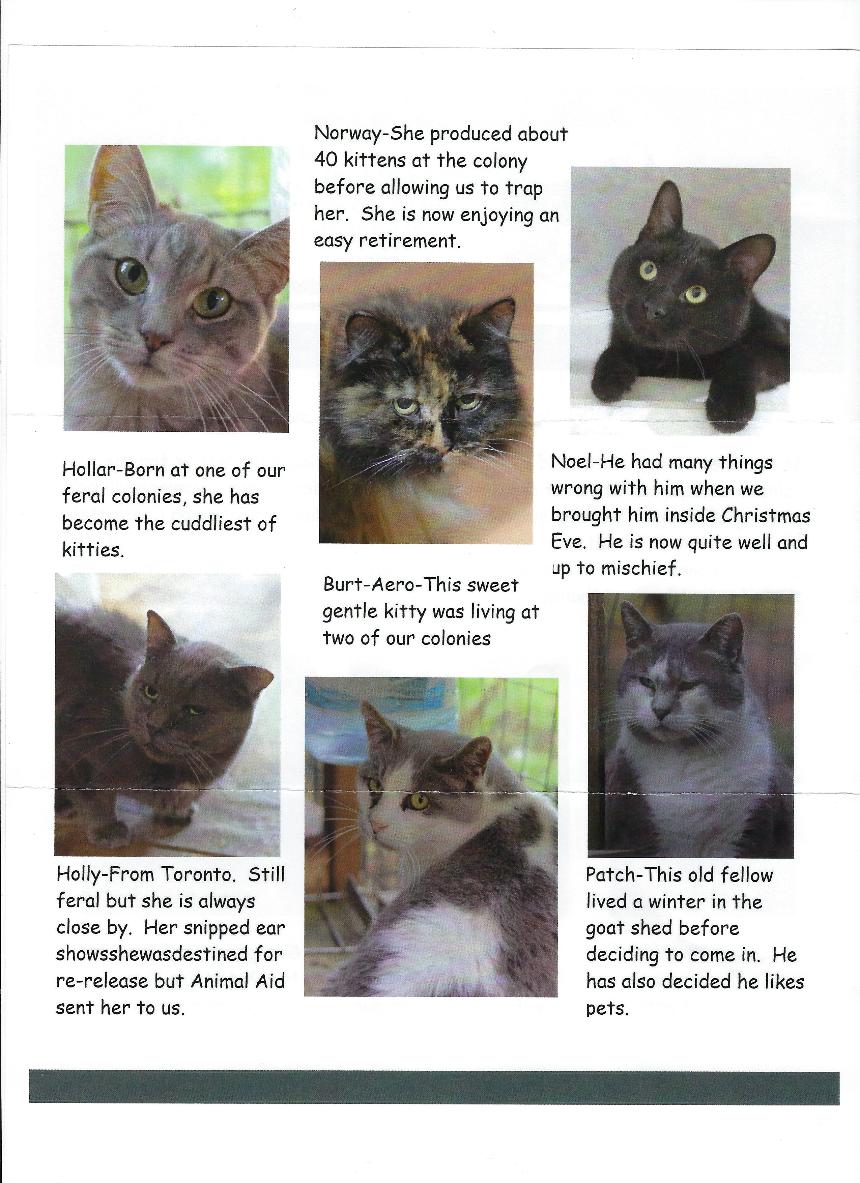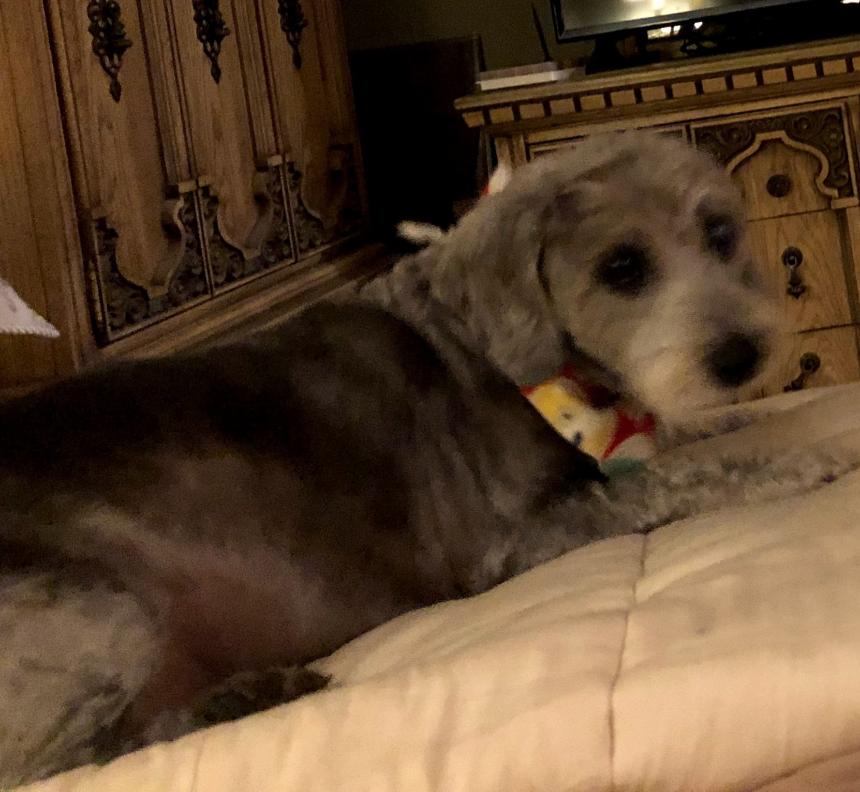 Our thanks to Animal Aid & Adoption for stepping in to help Wellington, who is our 12 year old Wheaton Terrier Poodle mix, "a Winnie Poo". He has been a much loved member of our family since he was 6 weeks old. Recently he has needed medical attention and the Vet wanted to make sure that he could survive surgery.
Through the generosity of Animal Aid, we were able to give Wellington the best care and we are so happy to be able to have him in our lives for many more years.
Thank you Animal Aid for your caring and help.