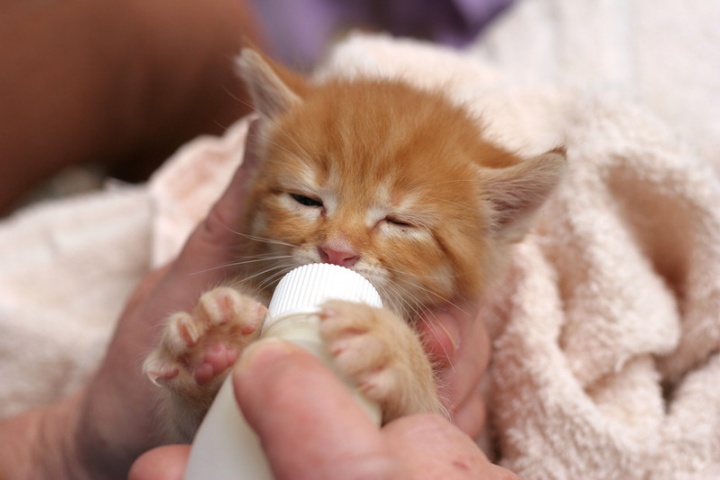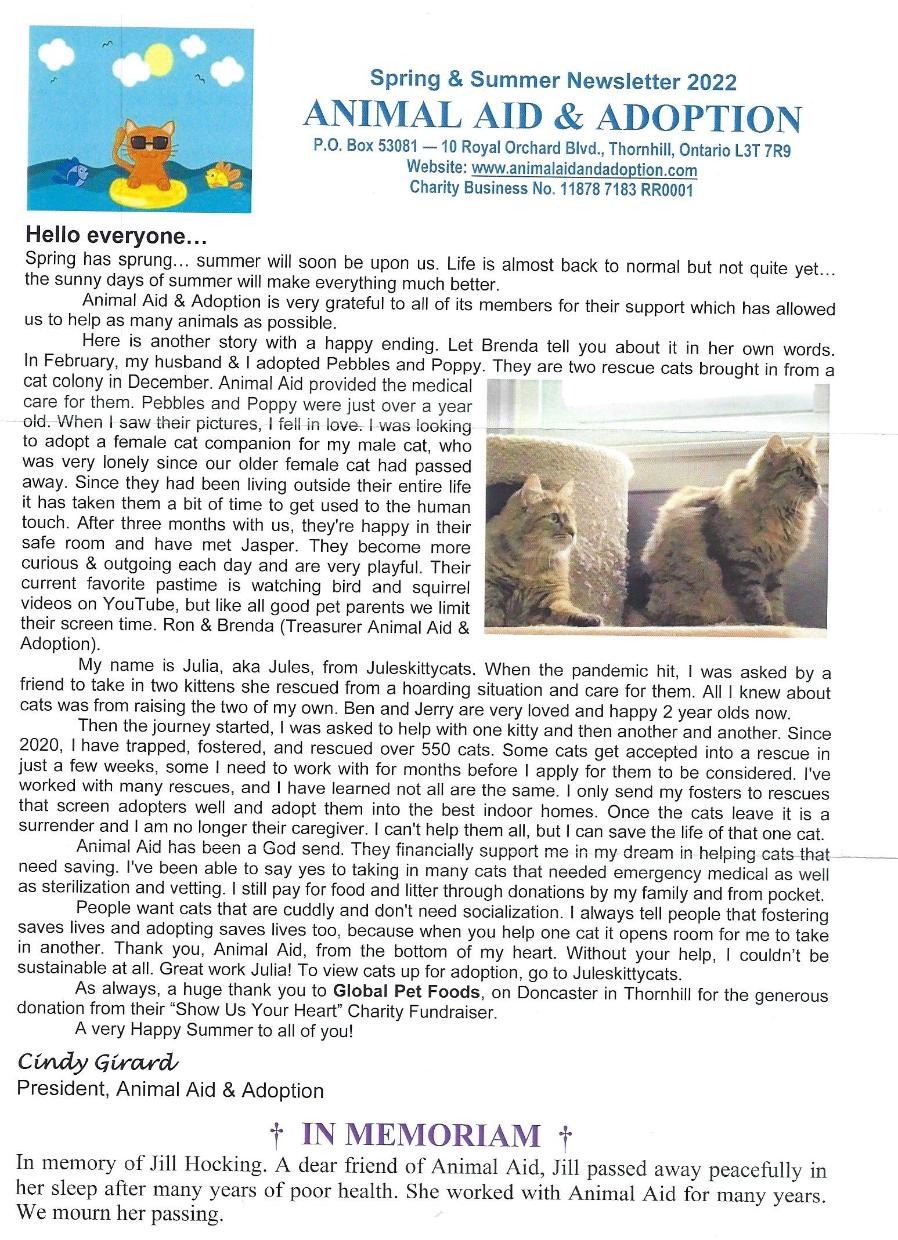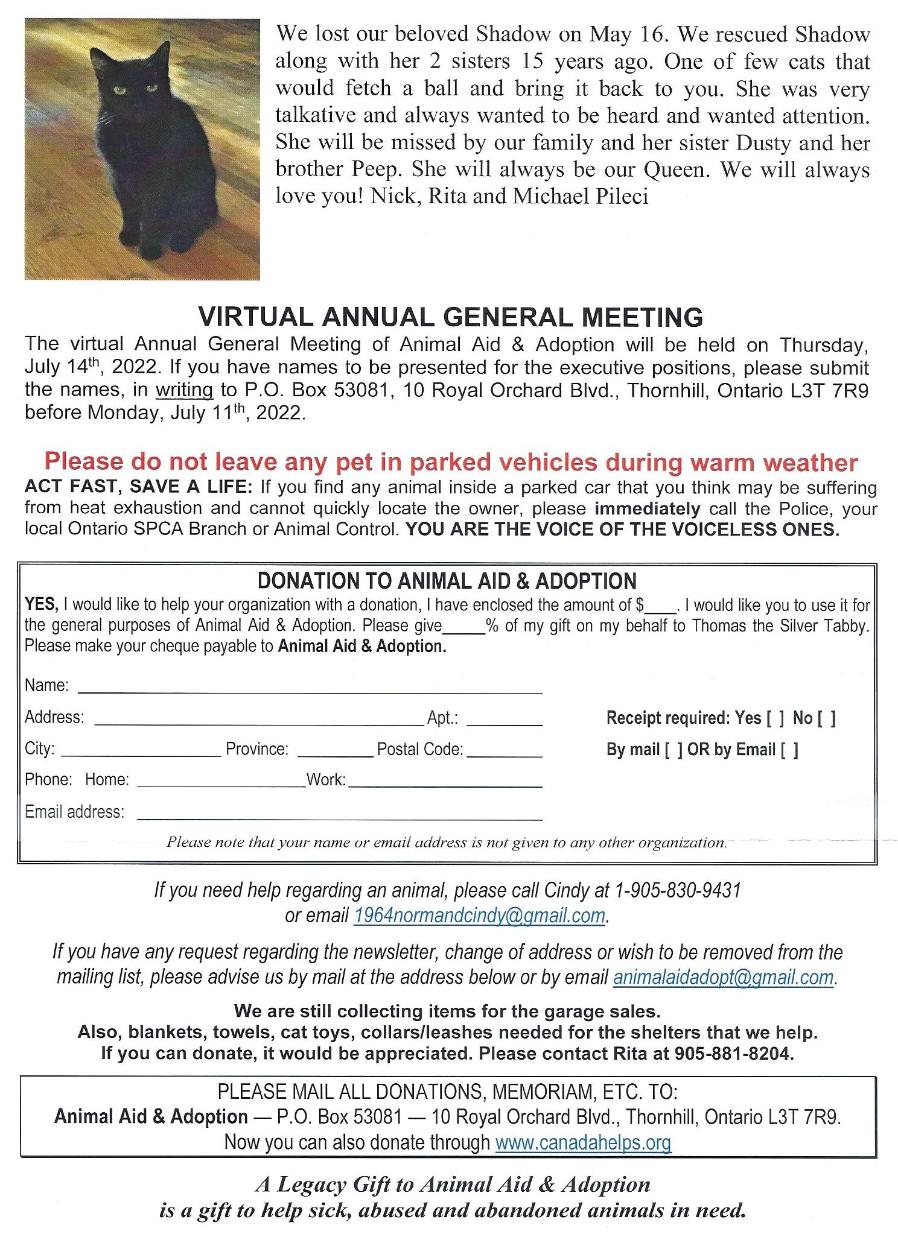 Thanks to one of our wonderful members, a car was donated to Animal Aid & Adoption and the funds received from Donate A Car Canada will go directly to the aid of suffering animals.
We wish to thank Donate a Car Canada and most importantly our member who so graciously donated this to us.
Animal Aid & Adoption has now partnered with the Donate A Car Canada Program
Contact: Donate A Car Canada for details
Website: www.donatecar.ca Phone #: 1-877-250-4904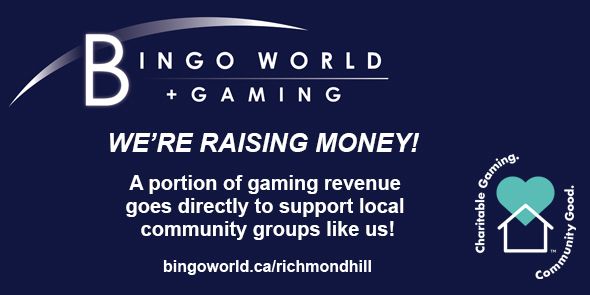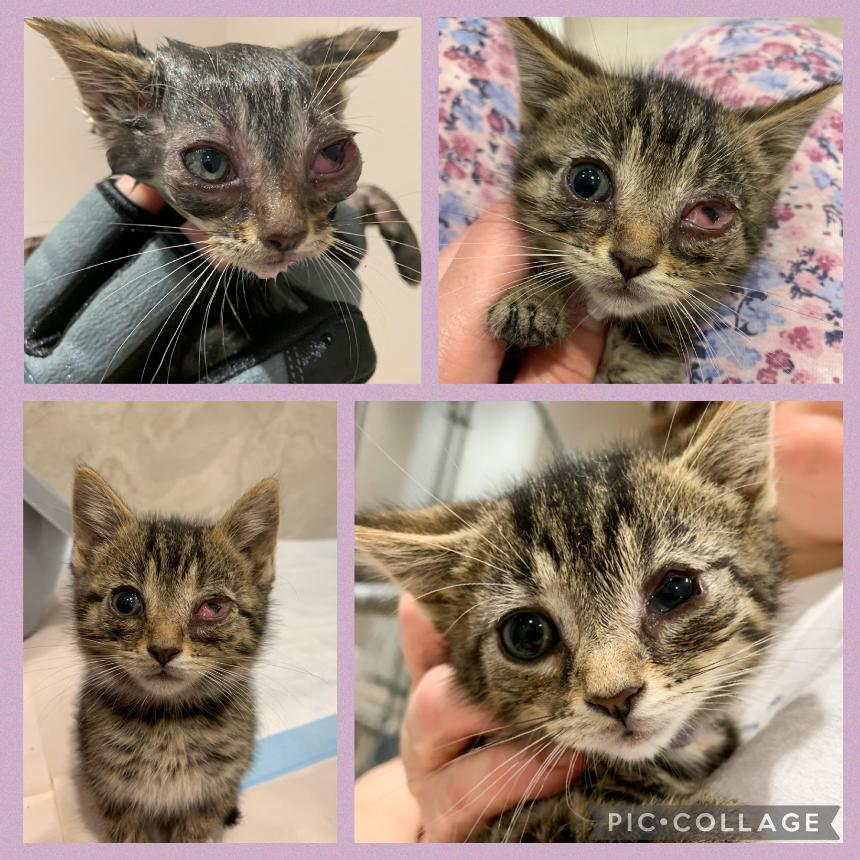 cLICK ON PHOTO TO ENLARGE
Animal aid was called in to help out a farm with many sick kittens. A team of volunteer trappers supported by Animal Aid, were able to use their traps & trail cameras to ensure that they trapped all the cats at the site.
There were 15 kittens approximately 6-7 weeks old rescued from the farm. With Animal Aid's support all of the kittens and cats received immediate veterinary attention the same day that they were rescued. Most of the kittens had bad eye infections & upper respiratory infections. As you can imagine while in foster care, these kittens went through medication very quickly. Sadly two of the kittens crossed the Rainbow Bridge.
We got the farm to agree to letting us fix the adult cats and end the cycle, as long as they were returned to the farm to keep the rodents away. There were 7 females and 1 male. The females were spayed and ear tipped. The farm asked for the male not to be returned. He was vetted (dewormed, vaccinated and neutured) through Animal Aids Vet. He is currently being socialized to find his forever home.
This is truly sad, because this is happening all over. If there is a litter in the winter they usually freeze to death. There are no laws to prevent this type of suffering of animals. It is agencies like Animal Aid that try to make a small difference in the lives of so many animals suffering this type of abuse. This is only one farmer out of so many that finally helped. So I thank him for that.
Finally, the kittens are on the road to recovery and will be going into foster care waiting to go to their forever homes.
THESE ARE THE LUCKY ONES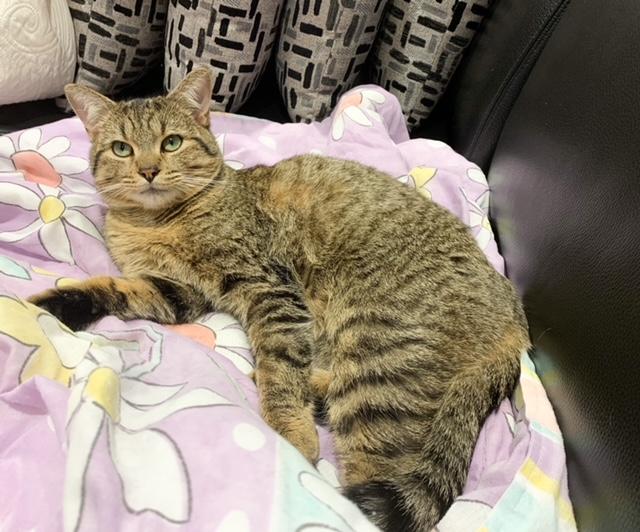 MISO
Miso was rescued from behind a Vietnamese Restaurant, hence his name. He is approximately 1 year old and is in good health. The person who rescued him thought he had a sweet disposition and did not want him to be released back to the site for fear that he would eventually be bitten by rats or worse. He also did not want him to be put to sleep as he did not even have a chance at a better life. Animal Aid was called in and he was brought to the vet where he was neutured, given all his shots, dewormed and groomed to remove any fleas. Miso is no longer trying to survive the harsh streets and weather all alone. He is happy, healthy and in foster care, along with his foster siblings waiting for his own loving home.
We thank BINGO WORLD, because of the money raised from them, we are able to help animals in distress like Miso.
This is Ella. She had lived her entire life outside, never knowing the warmth and affection of being inside and loved. Ella is approximately 7 years old, and was rescued along with her 3 kittens. The kittens were all healthy and have been adopted. Its Ellas turn now to find a loving and forever home. Animal Aid has made sure that she has had all the best care. She has been spayed, innoculated and has had dental work done. She is in great shape and is healthy. She is shy at first, but warms up quickly. She is a very laid back cat. She loves other pets and has such a great personality. She enjoys the window ledge and can sleep all day in the sun because she has no fear of being attacked and harmed inside. Food is a big motivator for her as she only survived on scrapes and whatever she could find to survive.
She is a beautiful little girl who is waiting her turn for her forever home with a caring person who will give her all the love and attention she deserves and they will get it back ten times over from her.
Animal Aid once again wants to thank Bingo World for their continued support so that we can help animals like Ella.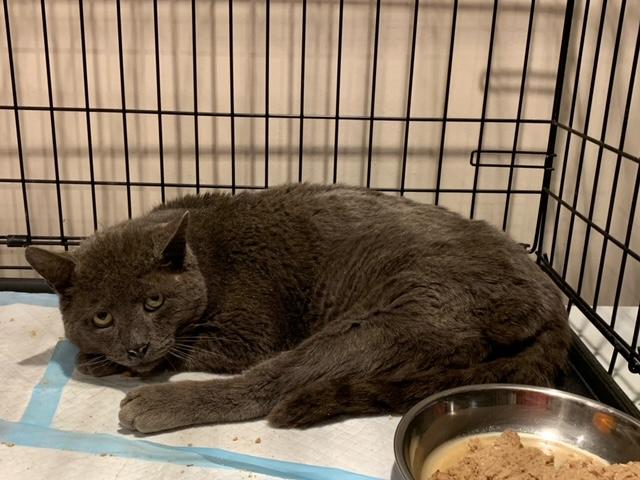 Please Click On Thumbnail To Enlarge It
A homeowner reached out to the rescue group that Animal Aid has been supporting, about a cat that she had been feeding outside and that appeared to have an injured leg. She had been feeding him for years and she said that he had fathered many kittens. Two regular traps were set up near his feeding and shelter location, but it did not work. Then, two alternative traps were set up with remote controls. These were being monitored through apps. It took a week and a hugh team effort to trap him. Thanks to this caring homeowner, who saw him eating in the trap, pushed the remote to keep him in the trap. When he was taken inside, it was discovered that he was actually very friendly and liked other pets.
With the assistance of Animal Aid, on Monday he was taken to the Vet. They said he was approximately 6 years old, had fleas but his overall body condition was good. On March 21 an Xray of his leg was taken. It was dislocated and he needed surgery. I can not imagine the pain he must have endured. On the 24th he was neutured and had his leg corrected by an Orthopedic surgeon.
He is currently doing very well and is happily recovering in his foster care waiting for a forever home.
It does take a village to help these poor abandoned animals who fight the elements and surroundings to survive. The lucky ones get rescued.
A big shoutout to a good hearted lady who fed him and helped rescue him, to our rescue team who are on call and out there anytime day or night, to Animal Aid for their support, and last but not least to Bingo World for their big support that enable us to do what we do rescuing animals.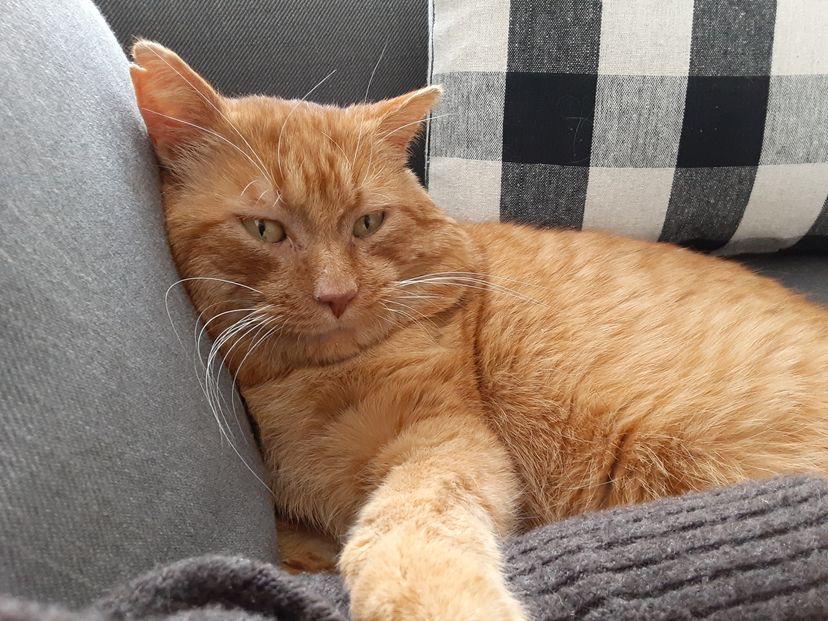 This Fella is approximately 8 - 10 years old. He was rescued from a cat colony. From the moment he was brought inside, he knew he was rescued and safe. Ernie's had a hard life. The vet said he was infested with fleas and had lots of fight wounds. Ernie has no teeth, you see he has never had proper nutrition and has been in many fights over the years. He has had to chew on hard objects just to stay alive. He will now have a proper diet and he is having his mouth taken care of. His wound has already started healing.
Ernie has a lot of TLC (Tender Loving Care) instore for him now. He will never need to endure the outdoor life again.
The pictures above is of Ernie at the Vets and in the spa getting all cleaned up to go to his foster home until he can find his forever home. The top larger picture is Ernie in his Foster Home waiting to be adopted to his forever home.
A big thank you to ANIMAL AID & ADOPTION for covering all of Ernie's Veterinary bills so that we can go ahead and save more animals in distress.
PLEASE CLICK ON THE THUMBNAIL PICTURES TO ENLARGE THEM.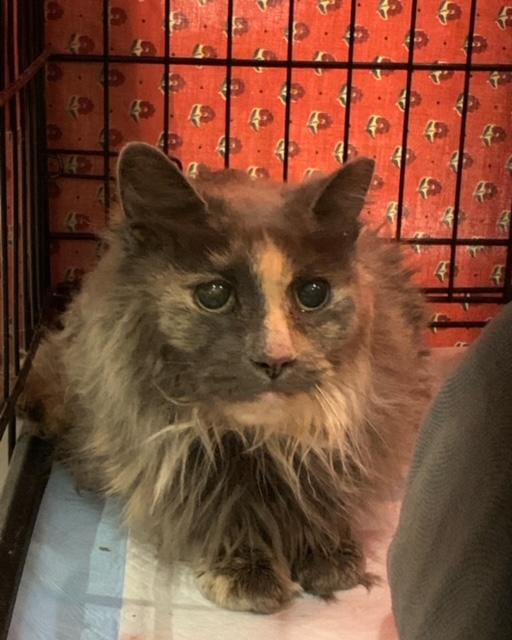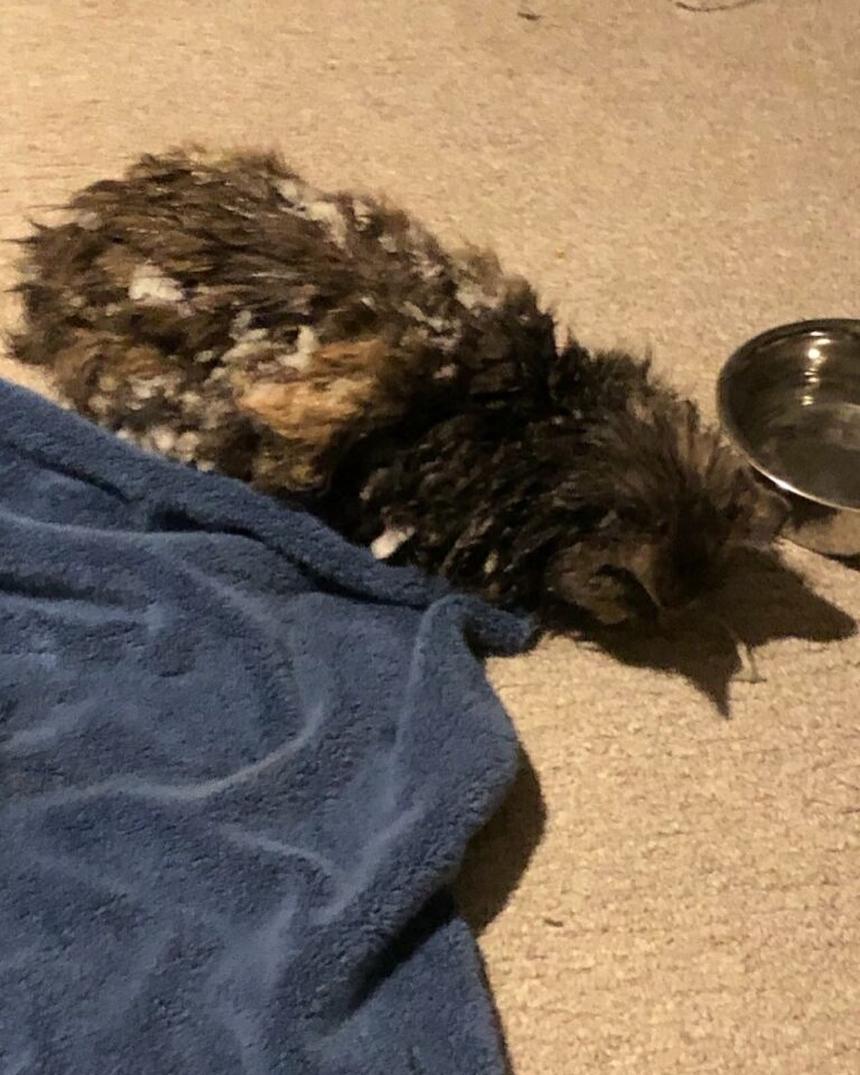 Wendy's Story

Yesterday a homeowner heard meowing for hours outside, she searched and searched and found her colony cat almost frozen to death buried in the snow.
She reached out to my friend Liz if she knew anyone that could help. Liz asked us if we had room.
Wendy arrived at almost midnight last night.
This morning we called Bayviewwoods vet and they were able to take her in.
It's one of the worse cases of matting they've ever seen. She was shaved down as she was covered in matts, feces & fleas. It took over 2 hours to clean her up.

Thank you for your generous financial aid. Without this kind of assistance we would not of been able to take her in as we can't financially afford the care she requires.
Wendy is missing a lot of teeth and needs a dental, Dr Alex suggested she come in 2-4 weeks time.
She won't go outside again that's for sure.
Animal Aid & Adoption is and always will step in to help these animals in need. Its heartbreaking to see what abandoned and homeless animals go through. We are so happy that Wendy will be okay and we will find that special forever home for her when she is ready.
Thank you to a great and dedicated team of people that go out at anytime to rescue animals in distress.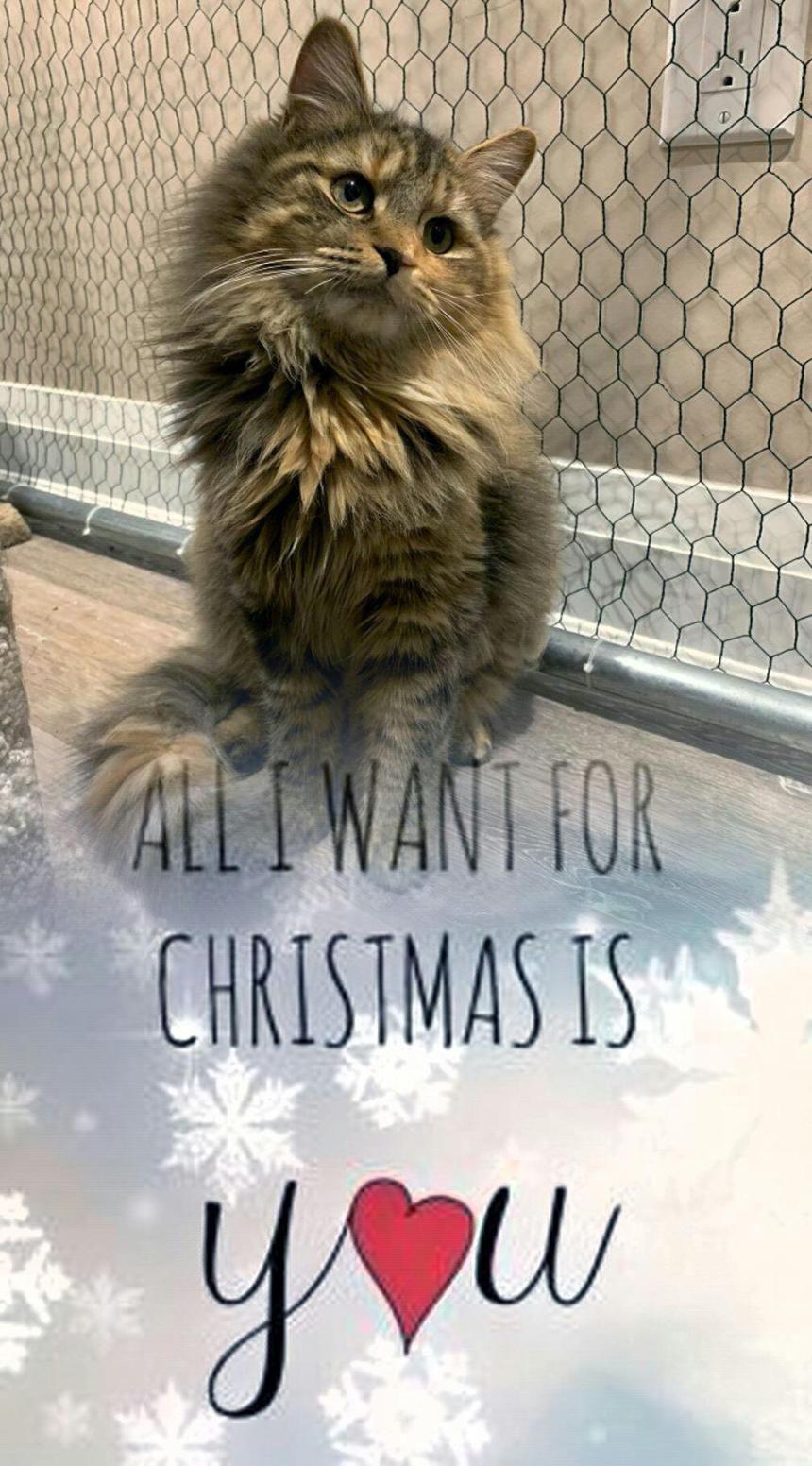 Willow is a Sweet, Beautiful 10 year old little girl. She has never really known stability. Her present owner adopted her from a very distant acquaintance 2 years ago and now he wants to be able to travel, so he is giving her up for adoption. Once again this little girl is looking for a kind, loving and stable home where she can trust to be loved and kept. She has been around children and is very affectionate with them. She does however prefer older kids to younger ones, as they tend to smother her because she is so soft. She does not bite or scratch or claw, but will let you know when she does not like something. She has been around dogs and after she gets used to them she tolerates them. She is not shy or afraid to let you know she is the Queen.
She is an indoor cat , not one that you would put outside. She is very clean , always grooming herself, so a good brushing would go a long way. You need to know that she is a long hair cat, soft and fluffy and needs brushing. She is fully trained and never an issue with her litter box. She is very tidy.
She is a cuddle bug and loves to cuddle up with you as long as you want. She does not climb on tables or counter tops, but she does like the couch and bed.
Animal Aid has taken her to the Veterinarian and she has been given a clean bill of health. Her teeth are in mint condition. Just do not give her too many treats. She has had all her shots and is raring to go. If you think this little girl is for you and you can give her that forever home that she so dearly deserves please contact Cindy at Animal Aid - 1964normandcindy@gmail.com
PLEASE GIVE ME A LOVING FOREVER HOME
Hi: Have you heard of "Puss In Boots", well that's me Puss - Puss In Search Of A Home - If you are wondering why Puss, its what they call me - here Puss Puss. But, you can call me whatever you like. I am about 3 years old, born and bred outside. A friend of Animal Aid & Adoption was feeding me outside for two winters, but I couldn't take another cold harsh winter outside. My paws and ears were freezing that last two winters. I was so cold with no warm place to sleep. I decided that I would protest and stand at her door and cry loudly everyday. It worked and she took me in.
This kind lady reached out to Animal Aid & Adoption and they took me to a Veterinarian and got me checked over. I am happy to say that I am purrfectly healthy & now micro-chipped. I have had all my blood work done and had all my shots. Ready to go. I have been voice trained, use a litter box and I do not scratch furniture (only the cat tower). I come when I am called and I will talk to you. I like to be brushed and told that I am a very good boy. I will keep you company while you watch TV and even sit on the sofa beside you if allowed. I love Temptations cat treats , so you can always find me by crinkling the bag. I love my bag of catnip and play and carry it like a kitten. I am very smart and if you ADOPT me, take me home and give me love, I promise to love you back tenfold.
Yours always - PUSS
PLEASE CLICK ON THE PICTURES TO ENLARGE
Pepper is a beautiful little girl that was on the verge of being given away. The owner was at her wits end because Pepper was always crying and crying sometimes almost screaming as well as being very aggressive at times. This was a cry for help. The owner reached out to Animal Aid & Adoption and we found that this poor little cat was going into heat every few weeks. We sent her to one of our Veterinarians for a check up and spaying because the owner could not afford to do so. Once spayed this sweet little cat will not be in distress any longer and hence a calmer loving pet. Pepper will be staying in her forever home. The moral of this story is that when you decide to get a pet, any kind of a pet, be informed and educate yourself as to what having a pet entails. This is a responsibility and you need to make an informed decision to take the next step. They depend on you for their safety, well being and yes LOVE. You will get it back two fold.
A BIG THANK YOU GOES OUT TO BINGO WORLD + ONTARIO LOTTERY & GAMING FOR HELPING US TO CONTINUE OUR WORK AND KEEP SAVING ANIMALS.
This beautiful scared little girl was sadly found in a home where her owner had suddenly passed away. She had been alone for several days before being found and was terrified of strangers. A call was put into Animal Aid and we were able to help with transporting her to one of our Veterinarians. Once there she was given the full check up as well as grooming. She is approximately 8 years old and surprisingly in very good health. All her inoculations were also brought up todate. All that was missing was a good home for her. As luck would have it, through our network with other groups, we were able to place her with a lady that had previously lost her cat. This was a very quiet gentle lady who was happy and willing to give her a good home. This will probably take a little while for her to trust people, but she is starting to come around. This is a story that will have a happy ending. Thank you to people like this lady that are willing to give an animal a second chance at a happy life.
ANIMAL AID & ADOPTION for the first time, is proud to share the wonderful work that one of the Shelters that we are supporting is doing. This shelter does a lot of great things for the animals that have been abused and abandoned. We are there to support their needs, whether it be for Veterinary Bills to help save an animal, or for food or anything that they may require. Please check out the animals below that are up for adoption and help open up more space for animals that are waiting and in need. We wish to thank BINGO WORLD and the OLG for making it possible to support this wonderful Shelter.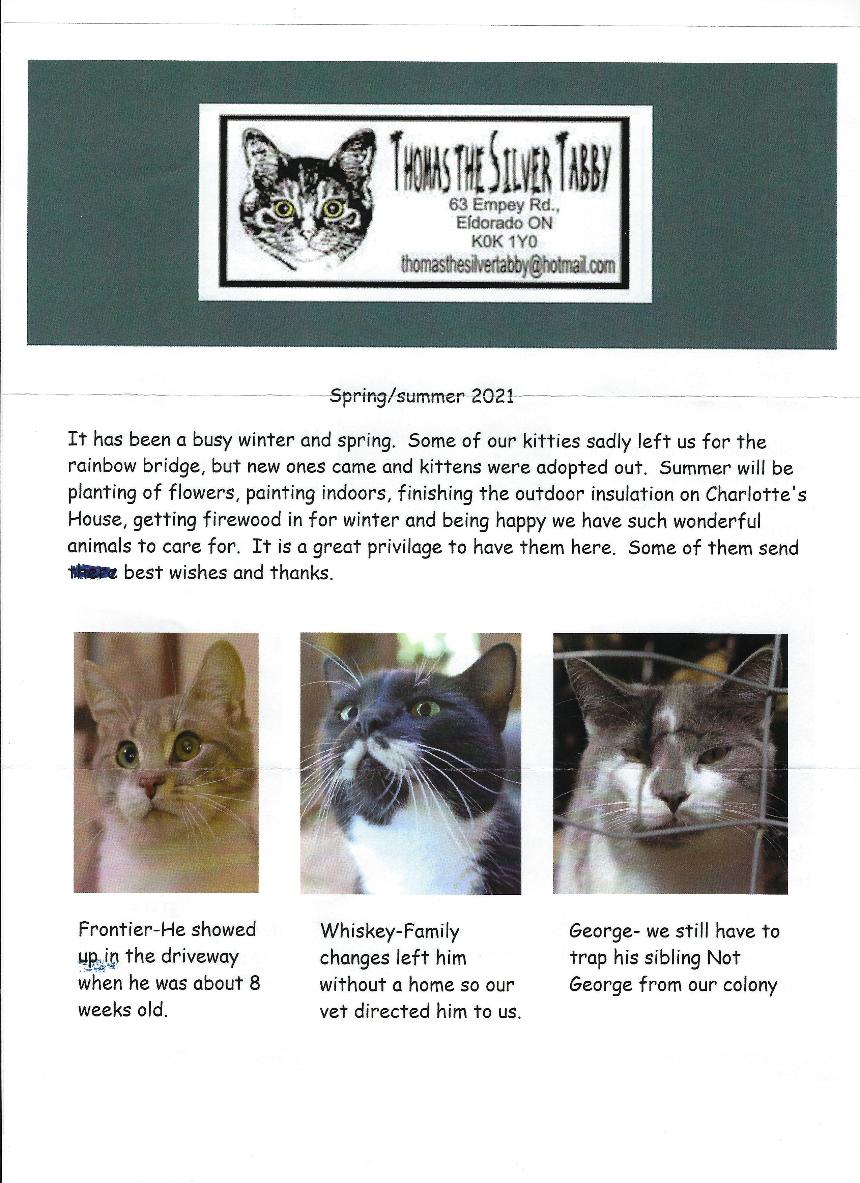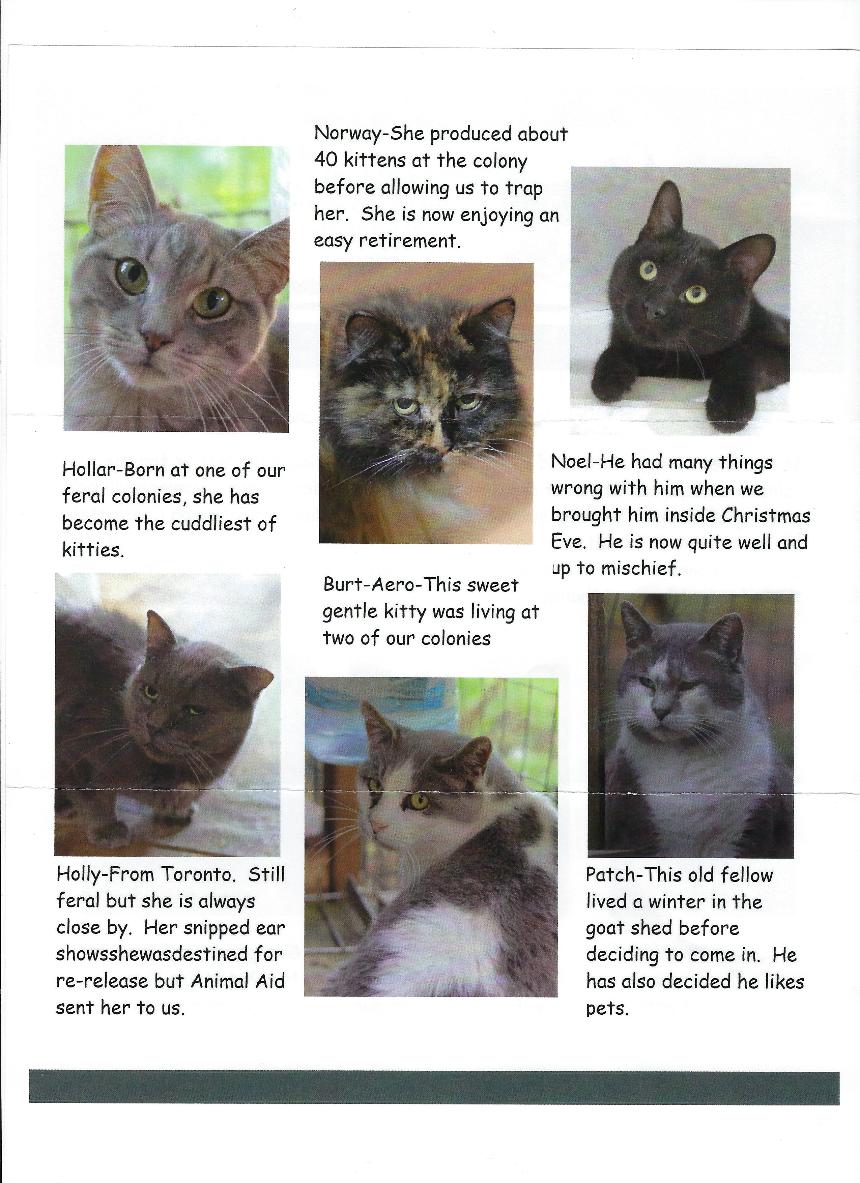 Rusty, a big beautiful, fluffy orange cat, showed up one day under our car, to afraid to come close to anyone. At the time, I had also been feeding another feral cat we named Blackie. The two cats were immediately at odds competing for food. This forced Rusty to come around when Blackie was not there. Gradually I was able to build trust with him and to pick him up. Trying to get him into a cage did not turn out well and he disappeared for about a week. When he returned I noticed that someone had shaved off part of his long matted dirty coat which revealed how truly underweight he actually was.
When he returned on November 19th, I saw that he was sleeping on my bench which he never did. On closer observation, I saw that he had a lot of blood on him, probably from a fight. I was able to wrap a towel around him and bring him into the house. I cleaned him up and he just fell asleep in my lap.
I called Cindy at Animal Aid to help with Rusty. He was taken to Animal Aid's Veterinarian and given a total check up and blood work. He was given all his shots and medication for his wounds. He was malnourished and with no microchip he was a totally abandoned cat. The vet said he was about 10 years old and had a fractured tooth from altercations with other animals or chewing on empty cans looking for food. They could not understand why someone had shaved him because he would not survive the cold winter outside with little fur to protect him. Every effort was made to find his owner, but no one came forward. There was a women who did offer to foster him and would adopt him if he became available, but Rusty did not take well to his new home and was returned to me.
Rusty has had such a lasting effect on me and my family that I was so happy to have him back. I guess he picked me and is where he wanted to be. He is such a loving cat. He is happy, healthy and all his fur has grown back, as well as 10lbs. He is a very big boy which we call our little miniature lion. He is very content to stay inside and look out the windows. He no longer has the need or want to go back outside.
He is now in his forever home - here. Thank you Animal Aid for helping me and improving Rusty's life. We are very grateful,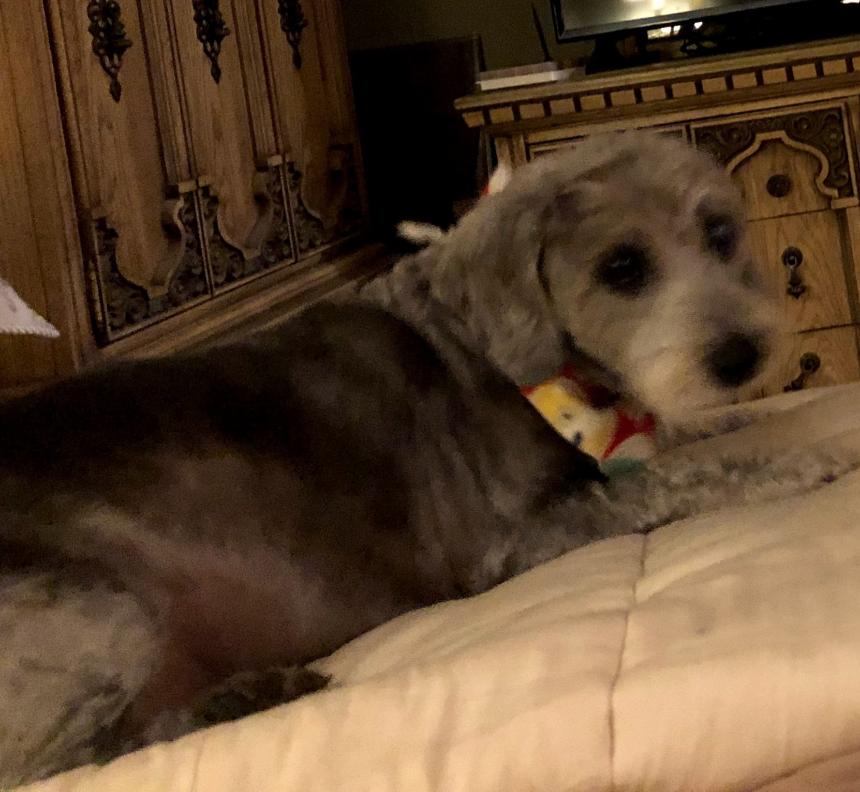 Our thanks to Animal Aid & Adoption for stepping in to help Wellington, who is our 12 year old Wheaton Terrier Poodle mix, "a Winnie Poo". He has been a much loved member of our family since he was 6 weeks old. Recently he has needed medical attention and the Vet wanted to make sure that he could survive surgery.
Through the generosity of Animal Aid, we were able to give Wellington the best care and we are so happy to be able to have him in our lives for many more years.
Thank you Animal Aid for your caring and help.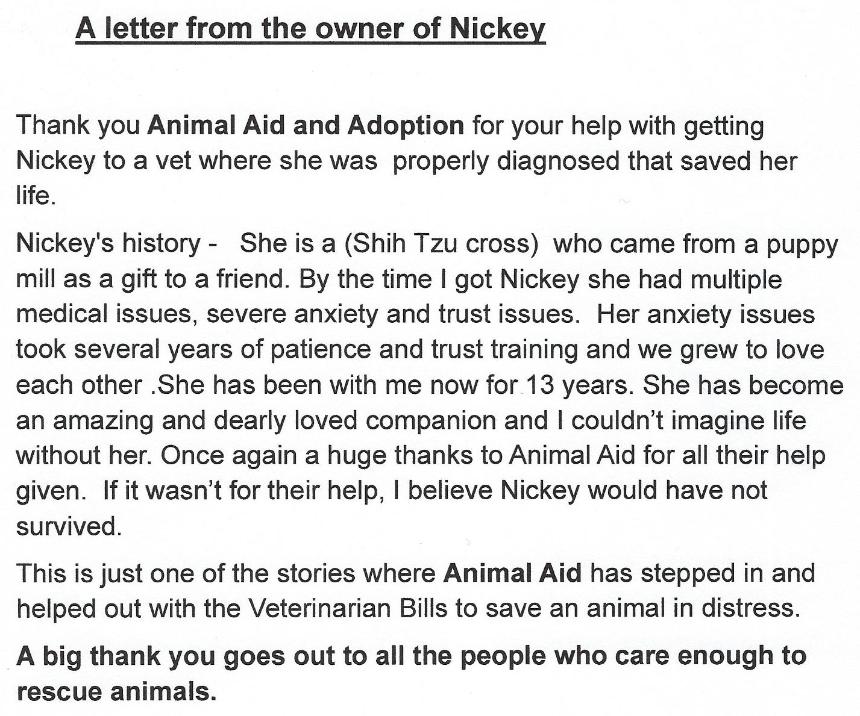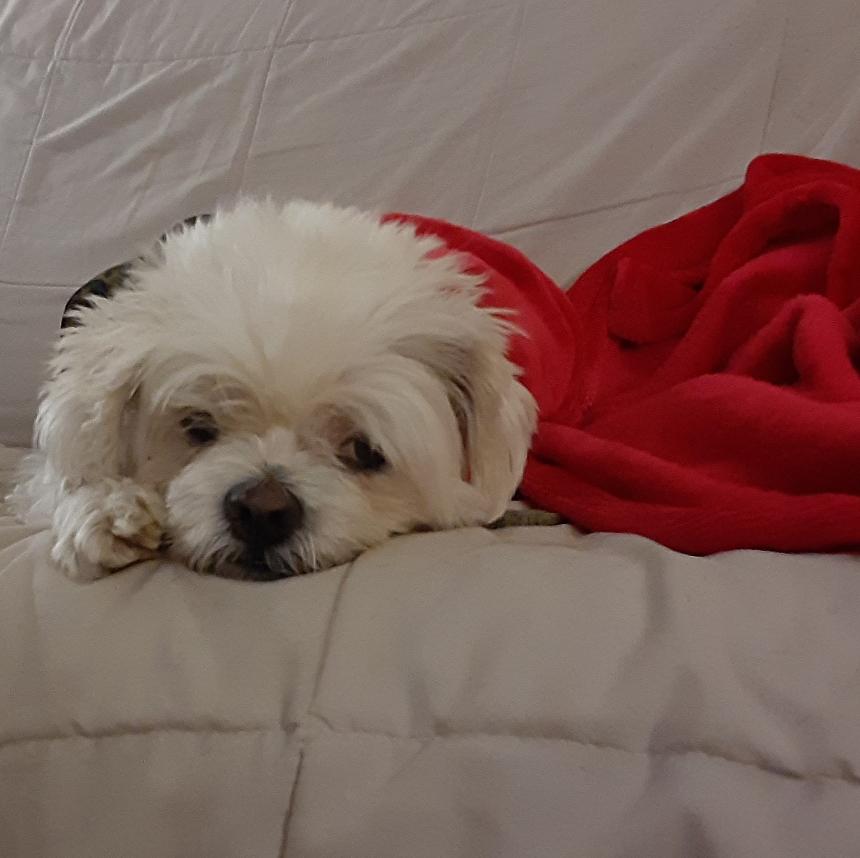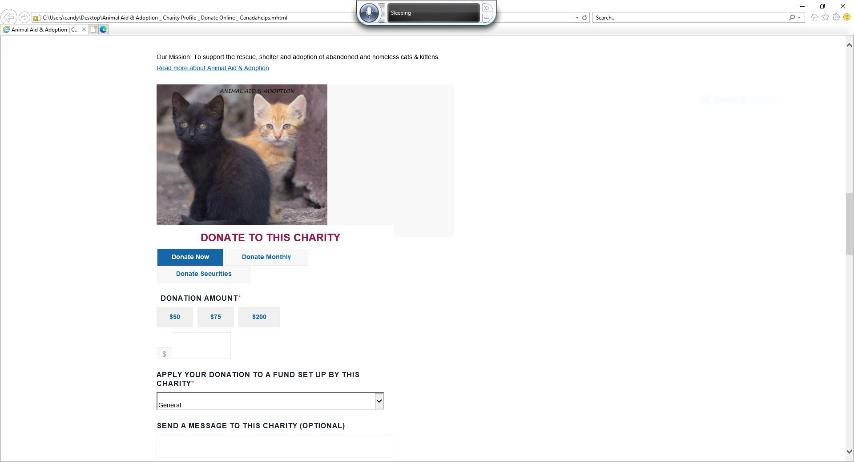 MISSION STATEMENT
Our Vision
To help sick, abused and abandoned animals in need
Our Mission
To support the rescue, shelter and adoption of abandoned animals
Our Values
We promote responsible pet ownership

We encourage and promote no-kill policies

We believe in and appreciate the bond between humans & animals
About Us
Animal Aid & Adoption is a not- for- profit charity established in 1972 to aid animals in distress
We are a 100% volunteer driven, dedicated team based out of Thornhill, supporting foster homes throughout Southern Ontario and shelters (such as 'Thomas the Silver Tabby')
We assist and arrange for the adoption of unwanted animals to good caring 'forever' homes
We assist in the rescue of homeless animals. These animals are sheltered, fed and given appropriate medical attention funded by Animal Aid & Adoption
In cases where animals are not adoptable, Animal Aid & Adoption pays food and medical expenses for these animals to be sheltered in foster homes
With so many abandoned and abused animals, we are desperately in need of your help for medical and food costs. Please help us save a life.
ANIMALS AVAILABLE FOR ADOPTION
While our site is under construction, please go to the website - Thomas the silver tabby for information on adoptable animals - Contact is Larry
CONTACT INFORMATION
To contact Animal Aid & Adoption for information - Please email Cindy - 1964normandcindy@gmail.com
ANY TYPE OF DONATION OR LEGACY GIFT TO ANIMAL AID & ADOPTION, IS A GIFT TO HELP SICK, ABUSED AND ABANDONED ANIMALS IN NEED.